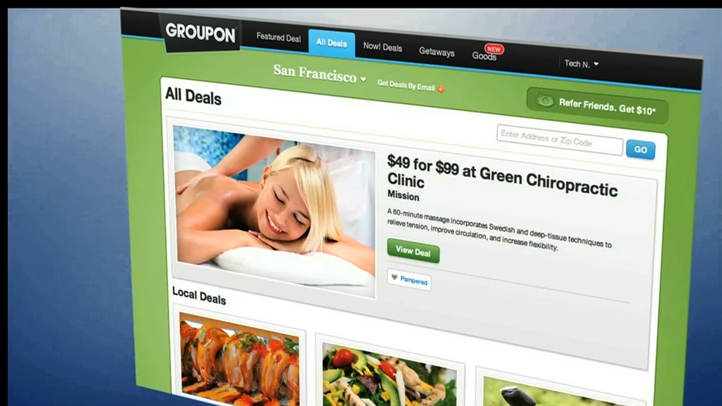 Recently, Groupon increasingly has been going offline in Chicago. It's been gearing up to install some of those multi-touch displays we reported on not long ago. But since that announcement, Andrew Mason's company has had more and more blips, bloops and glitches.
The National alleges that a major cause of these hiccups has been Castle Groupon's rapid expansion of Groupon outside the United States. The publication interviewed Alexander Kappes, the chief executive for Groupon Middle East, and Samer Choucair, the COO, to sort out what's been going on on the other side of the pond. Here's what they had to say:
Mr Kappes: The majority of the issues we had were regarding the delivery of products. What we did at that time was cancel business with all our international partners except for a couple of vendors that we trust 100 per cent and have proven very reliable. We halted business with international providers that we were sourcing our products from and refocused entirely on sourcing nationally. That's now our strategy.

Mr Choucair: The issues we had previously were when we relied on international partners to bring the product themselves into the country. Now if we do source an international product, we make sure that it is brought in through a local company. We go to them and ask them to source something.
They also said that these issues are behind them.
One issue that's still not behind Groupon overall, though, is its sliding stock. On Monday, according to the AP, "an analyst lowered his target price on the stock to reflect higher marketing expenses over the next few quarters. In addition, Groupon's co-founder and chairman, Eric Lefkosky, said he is scaling back his involvement to focus on Lightbank, his venture capital firm."
Groupon's stock, at press time, is at $9.51, and, to be sure, while Lefkosky performs many roles at different companies, it sends a disquieting message since this announcement comes at a time when there's much unrest in Castle Groupon. Even though the company has been clawing its way to stability, this signals that such a state may be a long, long, long ways away still.
On the other hand, Lefkosky's distance might be just the thing Groupon needs. Who knows?
David Wolinsky is a freelance writer and a lifelong Chicagoan. In addition to currently serving as an interviewer-writer for Adult Swim, he's also a comedy-writing instructor at Second City. He was the Chicago city editor for The Onion A.V. Club where he provided in-depth daily coverage of this city's bustling arts/entertainment scene for half a decade. When not playing video games for work he's thinking of dashing out to Chicago Diner, Pizano's, or Yummy Yummy. His first career aspirations were to be a game-show host.