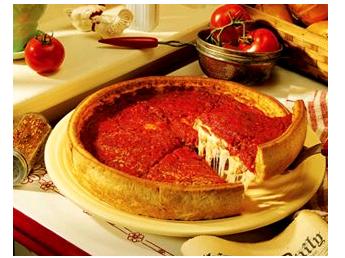 Giordano's has opened a new location in Chicago's South Loop, the first new location since the pizza chain filed for bankruptcy in 2011.
The new restaurant, at 1340 S. Michigan Avenue, made its debut Monday and is the first of a series of new stores planned for 2014, according to the Chicago Tribune.
The nearly 40-year-old local pizza chain filed for bankruptcy in February 2011 and was auctioned for $61.6 million nine months later to a local investment group led by the Chicago-based private equity firm Victory Park Capital.
The Tribune reports that five more restaurants are in the works for the deep dish chain.
Last May, the Chicago favorite went mobile, unveiling a brand new food truck.
The food truck marked pizzeria's 41st "restaurant."
The new locations planned for 2014 will include Chicago's Andersonville neighborhood, and the northern suburbs, according to the Tribune.