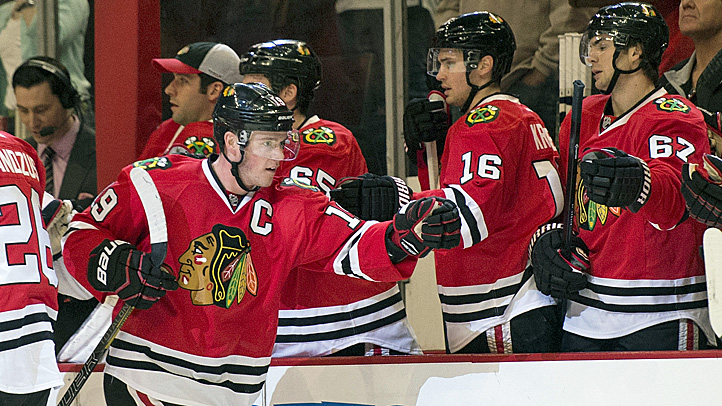 The Chicago Blackhawks haven't played a game since Saturday night's shootout loss to the Tampa Bay Lightning at the United Center, and they won't be able to ease back into the swing of things on Wednesday, as they take on the St. Louis Blues in a nationally televised game.
This game won't be an easy one for the Hawks. They are headed into one of the more hostile road environments in the league for their first test away from the United Center. The Blues have been playing really well in the season's opening days, scoring 11 times and only allowing two goals in two wins against the Nashville Predators and Florida Panthers. The Blues also have killed off all 11 power plays that they've allowed in those games.
Meanwhile, the Hawks have struggled on special teams, allowing four power play tallies to the Capitals and Lightning in their first two games. They have looked really good at even strength, though, and are averaging just 24 shots per game while firing 36.5 shots per game on goal.
Key to the Game: The Hawks Must Stay Disciplined Against the Physical Blues
The Blues are a team that isn't hesitant to mix things up physically, taking advantage of both their size and their defensive acumen to frustrate teams that emphasize puck possession as part of their offensive games. Obviously, the Blackhawks fit that bill, and so the Blues are a team that definitely can get under Chicago's skin.
The key then is for the Hawks to not only hold onto the puck like they are capable of doing, but they also will need to continue to have the type of quality shot selection that they've had at even strength this season. They've been very aggressive at finding shooting lanes and then firing the puck on net when they see them, and as long as they don't go back into their shell in this regard, they should be fine against the Blues' strategy.
Blackhawk to Watch: Jonathan Toews
Over the past few games, we've been focusing mostly on role players for the Hawks who need to step up, but Toews is definitely one to keep an eye on Wednesday. In his last game against the Blues, Toews got roughed up quite a bit and ended up missing some of the game with an injury he sustained on a hit from Blues captain David Backes, and it was a big scare for Chicago.
In addition to keeping his head up against the Blues' physicality, Toews will also have to be at the top of his game on special teams. He has been doing a good job as part of the Hawks' power play unit, cycling the puck well and drawing the attention of defenders away from both Patrick Kane and Bryan Bickell in that area. He also has been doing a good job with rotating partners on the penalty killing side of things, and he's going to have to hold strong as the team continues to try to work in new forwards on those plays.
Blue to Watch: Alex Steen
So far this season, the Blues have been getting scoring from just about every player on the ice, but Steen has been one of the key catalysts on their offense. He has two goals and nine shots in the team's first two games, and it's his aggressive approach that really seems to be rubbing off on the team.