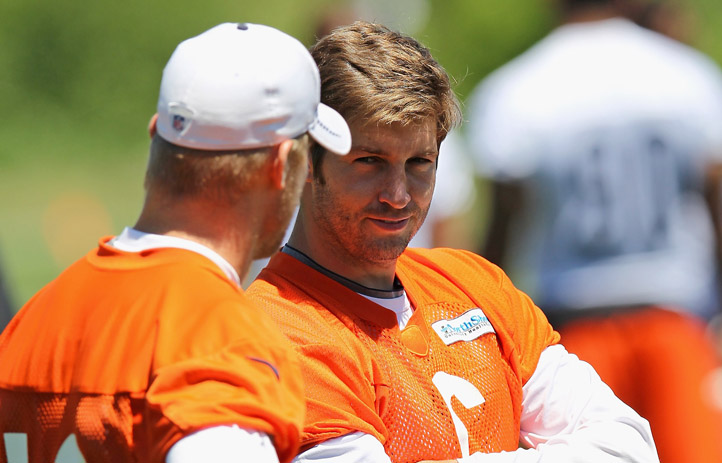 The fourth pre-season game can be tough to watch. If starters play at all, it's for a series or two. It's up against college football. You may want to actually go outside and enjoy the few remaining beautiful weather days. But here are a few reasons to tune in to the Bears game at Cleveland Thursday night.

Check out the third running back battle. Matt Forte and Michael Bush are the set No. 1 and No. 2 running backs, but the third spot is up for grabs between Lorenzo Booker and Armando Allen. They have been neck-and-neck throughout the pre-season, so this will be their last big shot to prove they deserve to make the roster.

See who shines on special teams. The players on offense and defense during most of this game will only play during the regular season if disaster strikes or the Bears are ahead by a gajillion points. But the players who stand out on special teams and make the roster will be in those roles during the regular season, so watch and see how the Bears will handle special teams.

If Josh McCown proves his worth. The Bears staff has to decide if it's worth it to carry three veteran quarterbacks. McCown proved his worth in the last game of the 2011 regular season, but the addition of Jason Campbell means McCown is more of a luxury. He gets the chance Thursday night to show he's a necessity with plenty of playing time.

Watch which players put it on the line. Maybe you don't know their names. Perhaps if you ran into them at a mall, you wouldn't know they were Chicago Bears. But the players trying to make the 53-man roster, or perhaps the eight-man practice squad, have to show the coaches and staff they can be counted on when the pressure is on. The fourth pre-season game is where they can show this.

Matt Bowen, who played in the NFL for seven seasons, wrote about what every player trying to make the team needs to do during the fourth pre-season team. "Make a big play. Flash on tape. Get the ball out on special teams. And do it while you are gassed — with no rest in sight."

While it's not the biggest starts on the field, that kind of effort is always worth watching.
Copyright FREEL - NBC Local Media