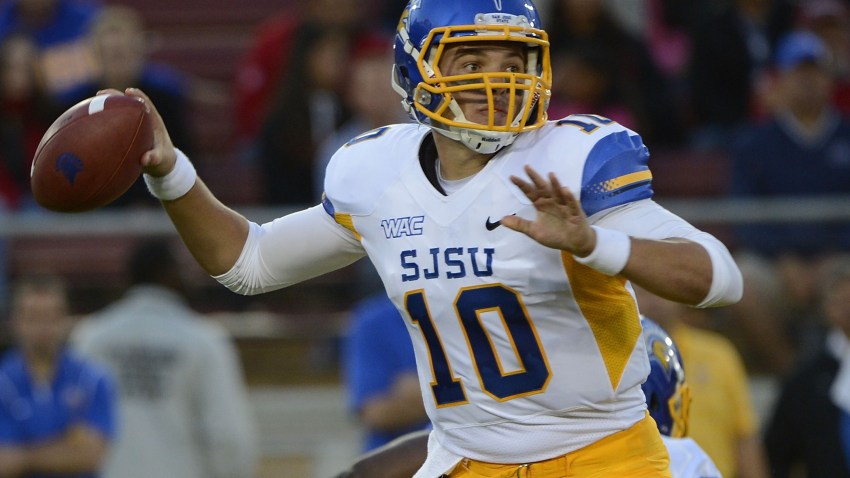 The Chicago Bears are busy preparing for the upcoming season, and they are taking a big step in that direction as they host their rookie mini-camp this weekend at Halas Hall.
Guys like Kyle Fuller, Will Sutton, and many other potential key pieces for the Bears in 2014 will gather under the same roof (or sky, depending on the weather conditions in Lake Forest) for the first time, and the Bears' coaching staff will get their first crack at getting their newest team members pulling in the right direction.
One of the guys that Bears fans will be keeping a sharp eye on both in this mini-camp and in training camp in July will be quarterback David Fales. The sixth round pick out of San Jose State may not have been one of the top-tier guys at the position in a draft with Johnny Manziel, Blake Bortles, and Teddy Bridgewater, but he did have a really solid college career, and he has already shown many of the qualities that the Bears are potentially looking for in a back-up quarterback.
That job currently belongs to Jordan Palmer, and by all accounts the team is confident in moving forward with him in the number two slot behind Jay Cutler on the depth chart. After losing Josh McCown to the lures of free agency, the Bears bumped Palmer up from the third spot in the rotation, and if the season began today he would likely be the guy who would be on the field in pads and a jersey in Week 1.
That could easily change depending on how training camp progresses. Fales' game is predicated on quick throws on short routes and on precise timing on downfield throws. If that sounds familiar, that's because McCown displayed the same qualities as he piloted the Bears to several key victories last season. His timing was evident on long throws to Alshon Jeffery down the field in games against the Vikings and Cowboys, and he also displayed good zip as he found Brandon Marshall and Matt Forte on shorter routes.
Fales could be that type of quarterback, and he will go about proving that he's worth a look as Cutler's back-up when he steps under center this weekend. Obviously there won't be a chance for him to grab the job this early in the process, but at the very least Fales will be looking to prove that the Bears made the right decision to grab him in the draft, and it will be fascinating to see how the process plays out as training camp and the season draw ever closer.