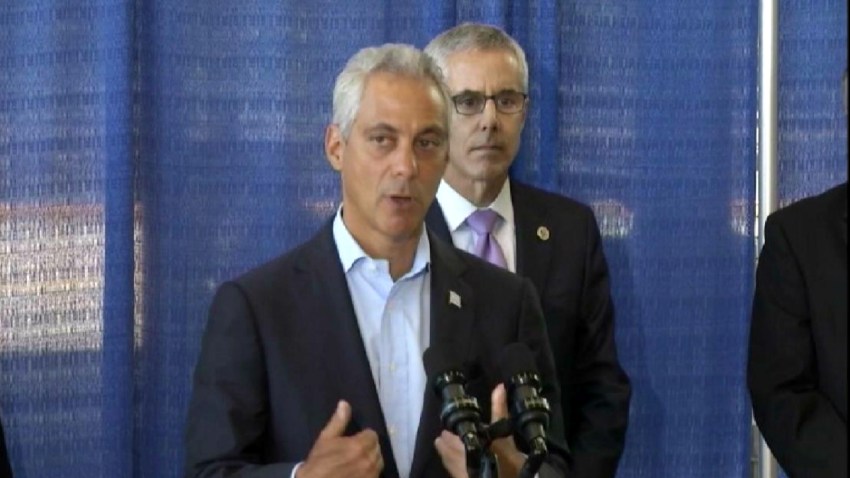 Mayor Rahm Emanuel announced Tuesday that wait times at O'Hare International Airport's peak Transportation Security Administration checkpoint have improved by more than 90 percent as a result of additional federal resources.
Reports of long delays at security checkpoints at the airport began to surface in May. At the time, the peak average wait time was 105 minutes.
The mayor's office credited Emanuel, Sen. Dick Durbin, federal officials, city officials, the airlines and the TSA for working to reduce wait times at both O'Hare and Midway.
"I want to thank our federal partners, especially TSA Administrator Peter Neffenger, for recognizing the impact Chicago's airports have on the national aviation system and providing additional resources to address the unacceptably long wait times last spring," Emanuel said in a statement. "These improved wait times, and the safety and security of travelers, must be maintained, which is why I urge Congress to continue to fully fund the TSA to ensure airports have the staffing and resources required to operate safely and efficiently."
Emanuel's release credited the mayor for working with the TSA and the Department of Homeland Security to secure additional screeners and canine teams to Chicago's airports. On Tuesday, Emanuel and the TSA promised to continue pushing for additional resources and staff for the airports.
Durbin lauded the progress Tuesday.
"After unacceptable security wait times in Chicago this spring, I was pleased to see TSA step up for the busy summer travel season," Durbin said in a statement. "I thank TSA Administrator Neffenger for coming to Chicago and providing necessary resources like additional screening officers and canine teams at O'Hare and Midway."
"I will continue to make certain that TSA has the necessary funding and proper plans in place to ensure security and efficiency at our nation's airports in the long-term."
Passenger volume at O'Hare and Midway has increased since the previous year, while the TSA has substantially increased the number of canine units and screening officers at both airports.
According to recent TSA performance reports, the average wait time at O'Hare is now two minutes, down from 15 in May. The average wait time at Midway is four minutes, down from 11 minutes in May. Peak wait times are down to seven minutes at O'Hare from 105 minutes in May. Additionally, peak wait times at Midway are down to 10 minutes from 65 minutes in May.