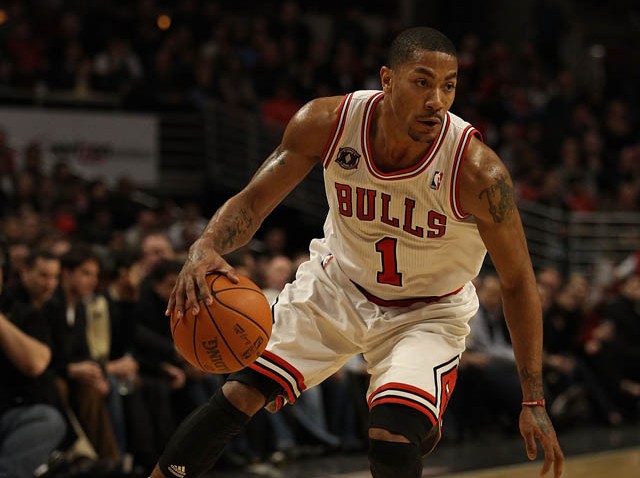 In the final week of a breakout season, Derrick Rose is having his best week ever. True, the man has had plenty of other good weeks, but let's break down Derrick's checklist.

DONE:
Win over playoff-bound Orlando: Rose led the Bulls in Orlando with 39 points, but he still wasn't happy with the team's performance. After the game, he said that they should have easily beat the Magic, who were playing without Dwight Howard. (The star was suspended for accruing too many technical fouls.)
Make the cover of Sports Illustrated: For the first time in his young career, Rose is on the cover of esteemed sports magazine, the first Bulls with that honor since Michael Jordan in 1999. In an article discussing the virtues of small ball, Rose is seen leaping over the much taller Lakers.
Become the overwhelming pick of ESPN writers for the league's most valuable player award. In a year that was supposed to be about LeBron James, Dwyane Wade and the Miami Heat, Rose burst onto the scene with consistent, jaw-dropping play. Now, NBA media have the task of picking the league's MVP, and they'll have a hard time writing down any name but Rose.

TO DO:
Finish the season with the best record in the league: With games at New York and against the Nets, Rose and the Bulls have a chance at the best record in the league. They need to win both games, and the Spurs need to lose to the Lakers or the Suns, but Chicago could emerge from the regular season with home court advantage throughout the playoffs.

Hang out with the president: Rose and a buddy will attend a fundraiser for Pres. Obama in Chicago on Thursday night. This won't be the first time that the two Chicagoans meet, but Rose is so excited about it that he bought a new suit for the occasion. He knows that he could get a hold of the president if he really wanted to, but promises "not to harass him or anything like that." The Secret Service appreciates that.

Watching Derrick Rose grow from the player who simply asked, "Why can't I be the MVP of the league?" to the league's best player, an SI cover boy and a pal of POTUS has been a treat for Chicagoans. We can't wait to see what his next great week will bring.
Maggie Hendricks is a Chicago based sports writer who spends most of her time writing witty, informaitve posts for NBCChicago's Bears blog Grizzly Detail. She's taken her talents to basketball while the Bears hibernate.
Copyright FREEL - NBC Local Media