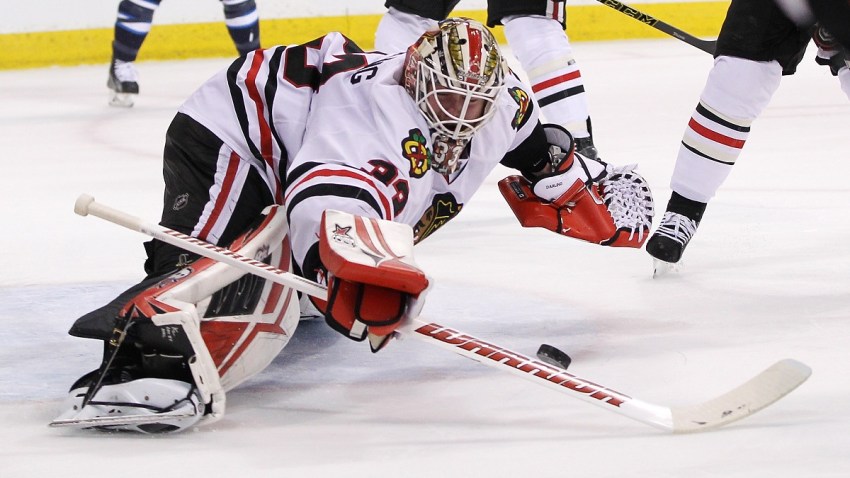 Scott Darling made 28 saves for his first shutout of the season, Andrew Ladd scored against his former team and the Chicago Blackhawks snapped a four-game losing streak with a 4-0 victory over the Winnipeg Jets on Friday night.
Patrick Kane and Marian Hossa opened the scoring 26 seconds apart late in the second period, and Tomas Fleischmann also had a goal for the Blackhawks. Darling earned the second shutout of his two-year career with the Blackhawks in his 20th game of the season.
It was Ladd's first appearance in Winnipeg since the former Jets captain was traded to Chicago on Feb. 25 in a multiplayer deal that included current Jets forward Marko Dano. Ladd received a standing ovation from MTS Centre crowd when a video tribute was played in the first period. He raised his stick to the fans in appreciation.
Ondrej Pavelec turned aside 32 shots for Winnipeg, which started a four-game homestand.
Chicago had a 13-11 edge in shots on goal after the scoreless first period, which featured Pavelec making a highlight-reel, full-arm snapping glove save on Dale Weise late in the period.
Darling had his own impressive moment in the second when he sprawled out on his stomach to stop Drew Stafford's shot.
Kane scored his 39th goal of the season, and recorded his 91st point, at 16:56 when he raced in alone on Pavelec and sent a backhander over the netminder's shoulder on the short side.
A shot by Artem Anisimov went off the stick of Winnipeg defenseman Dustin Byfuglien onto Hossa's stick, and he fired the puck by Pavelec at 17:22 for his 12th goal of the season and 2-0 lead.
Ladd and Fleischmann scored 1:45 apart in the third period.
Ladd netted his 20th goal at 3:06 after Jonathan Toews sent him a pass from the side of the net out in front. A turnover by Winnipeg led to Fleischmann's 12th goal at 4:51 for the 4-0 lead.
NOTES: The Blackhawks are 37-6-4 when scoring first. ... The Jets host Anaheim on Saturday, while Chicago is home to Minnesota the same day.