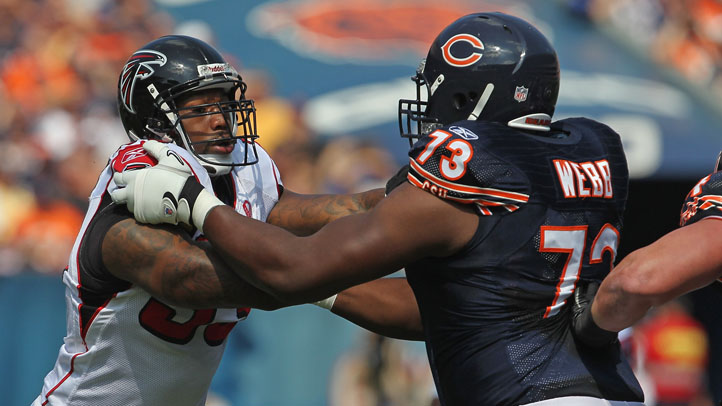 You will have no problem finding out if Jay Cutler is happy with offensive tackle J'Marcus Webb. It will be right on his shirt.

On ESPN 1000, Cutler said he will wear on of Webb's "J'Webb Nation" shirts if the left tackle doesn't draw false start penalties and allow sacks like he did in 2011.

"I will wear a J'Webb shirt on this show. Happily. Every week," Cutler said.

The bigger question is if Webb will get the chance to prove himself at left tackle. One of the biggest training camp battles is between Webb and Chris Williams at left tackle. They split reps during OTAs and are continuing to do so during mini-camp.

After Webb's rookie season, the NFL locked out its players. He didn't get to experience the Bears off-season training, so he is trying to soak up everything he can while working out reps with Williams.

"It definitely has my head turned but nothing more nothing less. It's not a negative at all. I definitely take his expertise into account every time I come onto the field. We work together and that's what we have to do as a unit."

The competition may put Webb's starting job in jeopardy, but it's still very early, and Webb may give Cutler the chance to wear that shirt just yet.
<a href="http://

<a href="http://

News breaks at inconvenient times. Stay tuned to NBCChicago wherever you go. Download our iPhone and iPad apps, now available on the iTunes App Store. Get your iPad App. Get your iPhone app.
Copyright FREEL - NBC Local Media