So much for waiting for draft day, then.
The Hawks announced Thursday that they have re-signed Corey Crawford to a three year deal. While the Hawks did not release the terms, RDS in Montreal is reporting it's for a total of $8 million, resulting in a cap hit of $2.6.
Before we get to discussing whether that's too high or not, this is good news for Hawks fans. The Hawks haven't had a genuine No. 1 goalie since Jocelyn Thibault, and that wasn't all that lock down either.

Certainly since the lockout, the Hawks have gone into every season with serious questions about their goaltending. They've been lucky the past three years, as in '08-'09 Nikolai Khabibulin was inspired while playing for a contract, the year after that Antti Niemi came up trumps to lead the Hawks to a Cup when Cristobal Huet filled his pants, and last year with Crawford.
While the Hawks always believed in Crawford, no one predicted this. Now, for the next three years, the Hawks won't have to answer this question (unless of course Crawford devolves into some amorphous blob, but no one's anticipating that).
When discussing what Crow's extension will be, a lot of Hawks fans were using Detroit's Jimmy Howard as a barometer. Howard signed a two-year extension this year for a cap hit of 2.2.

So Crow's comes in a little higher than that, but it's a different goalie market now, with only Ilya Bryzgalov and Tomas Vokoun being the high-end goalies available on the open market. And there will be teams looking: Philadephia for sure, perhaps the Capitals, perhaps Tampa, perhaps the Ducks, and a couple others could be looking for starters.

The longer the Hawks waited to sign Crawford, which they said they were going to, the more expensive he would have gotten.
The other difference between Crawford and Howard is that Crow has a stellar playoff performance to his name, whereas Howard's two have been wonky at times. Crow's price comes in line with Montreal's Cary Price (who he's not quite as good as), far cheaper than Antti Niemi (who he's better than), cheaper than Nashville's Pekka Rinne (who he's not as good as), and cheaper than Dallas's Kari Lehotonen (who he's better than).

This number is just about right. Well done, Stan Bowman.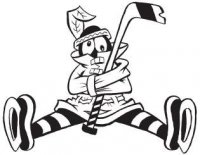 Sam Fels is the proprietor of The Committed Indian, an unofficial program for the Blackhawks. You may have seen him hocking the magazine outside the United Center at Gate 3. The program is also available for purchase online. Fels is a lifelong 'Hawks fan and he also writes for Second City Hockey .
Copyright FREEL - NBC Local Media