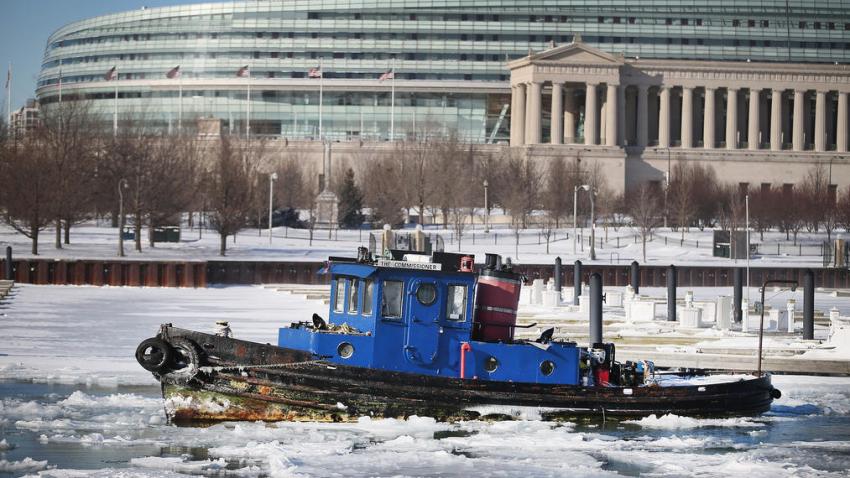 The New York-area put on a heck of a show for Super Bowl XLVIII on Sunday, as New Jersey shone in all its splendor during a 43-8 route by the Seattle Seahawks over the Denver Broncos.
Naturally, the massive TV ratings (the highest in Super Bowl history) and the huge financial boost the game provided to league and city coffers has cities lining up to host the Big Game if the league should once again decide to give it to a cold weather city in 2019 or beyond. Philadelphia, Washington and Foxboro are all potential sites for the league to consider, and so naturally the city of Chicago is being mentioned as a candidate.
There may be some fans who would like to see the game contested in the Windy City, but Chicago Sun-Times columnist Rick Telander is not among them.
"Can you imagine if Chicago actually had been awarded the Super Bowl and it had been held, let's say, January 6th, when it hit 16 below zero in town, with a wind chill somewhere around minus-30? Now that would have been special. And insane.

"How about if the game somehow had been held at Soldier Field on Christmas Even (my birthday, by the way), 1983, when the temperature dipped to 23 below and there was a wind chill – as then calculated – of a record 82 below zero?"
Telander's argument basically boils down to this: The Super Bowl may once again head to a cold weather city in the future, but Chicago is TOO cold of a city to deal with the game. To illustrate that point, Telander repeatedly pointed out instances when the mercury was at ridiculously low levels.
Of course, what Telander conveniently ignores is that the Super Bowl will not only never be held on Christmas Eve, but it won't be held in January again any time soon. The first Sunday in February will likely be the date for just about every Super Bowl from now until eternity, and for the Chicago-area, the temperature is rarely as frigid as Telander suggests.
According to the National Weather Service, the average temperature in February in Chicago is 38 degrees, with lows around 24 degrees. February is also the driest month on average in the city, meaning that the likelihood of rain is small.
Compared to East Rutherford, site of Super Bowl XLVIII, Chicago does stack up favorably. The average temperature at Metlife Stadium in February is 41 degrees, which is just three degrees higher than that of the Windy City. The average low in February is 22 degrees at the stadium as well, meaning Chicago has a two degree edge in that category.
So in terms of temperature, Telander's arguments were a bit of a stretch, but there is one that he makes that is right on the money: that Soldier Field is too small:
"What came out of the 2003 refurbishing was a tiny – 61,500 capacity – alien toilet seat dropped inside concrete columns that held nostalgia for a few people who remembered tractor pulls and track meets once convened within. No roof, no room, no good."
While 61,500 may seem like a lot of people, the fact of the matter is that just about every other potential Super Bowl venue can hold a lot more fans than that. Metlife Stadium can hold over 82,000. AT&T Stadium in Dallas can hold over 110,000 fans. University of Phoenix Stadium in Glendale, Arizona, site of next year's big game, has a listed capacity of 63,400, but can be expanded to 72,200 and can hold 78,600 with standing room only figured in.
With numbers like that, it isn't a surprise that the NFL chooses those venues to host Super Bowls, and it's hard to imagine that the league would accept such a low seating capacity stadium like Soldier Field to showcase the NFL's signature event.
Of course, the league has thrown some curve balls before. They held a game in Jacksonville, Florida after all, and there is a lot of talk of the NFL hosting a Super Bowl in London, England at some point in the future, so perhaps it isn't too crazy to think that the league could hold the Big Game in the City of Big Shoulders.