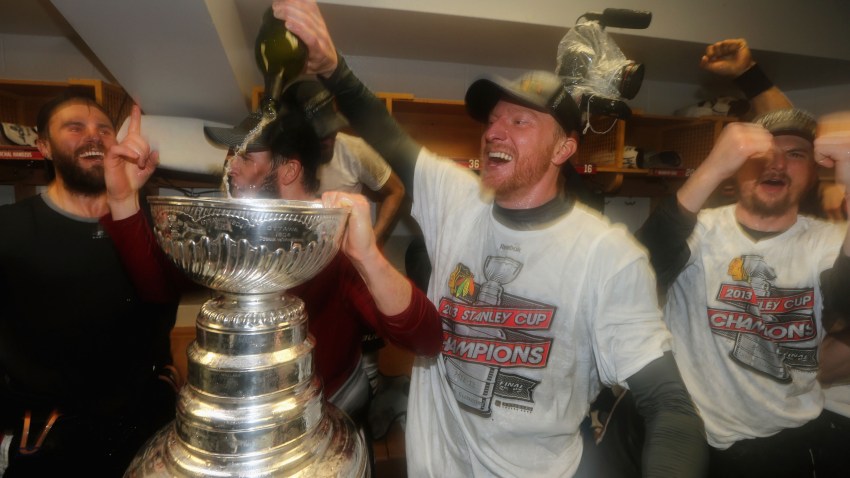 Elliotte Friedman of the CBC in Canada is widely regarded as one of the best hockey reporters in the business, and his "30 Thoughts" columns are always chock full of puck goodness.
Wednesday's column was no exception, with a couple of nuggets regarding various members of the Stanley Cup champion Chicago Blackhawks. He had thoughts on Brent Seabrook and an interesting tidbit about Corey Crawford, but it was his passage about winger Marian Hossa that warrants the most attention:
"Chicago's win likely alters a few other teams' off-season plans…The other interesting one is Marian Hossa, who was very good until a back problem slowed him down. This is purely an educated guess, but I wondered if Ottawa Senators GM Bryan Murray might approach the Blackhawks to see if he is available. Things did not end well between Hossa and the Senators in 2005, but maybe time heals the wound. He would be a perfect fit in Ottawa, but that's harder to see now."
The interesting thing is not that Hossa could potentially be viewed as trade-able by Chicago GM Stan Bowman, because the truth is that any player, with the exceptions of Jonathan Toews and Patrick Kane, is available for the right price.
What's interesting is that Friedman actually thinks that another team could potentially have interest in acquiring a player who has eight years left on a contract that carries a salary cap hit of $5.33 million, especially in light of the fact that the salary cap is plunging down to $64 million for the 2013-14 season.
A Blackhawks trade of Hossa would be a hard one to execute. The team would likely be expected to take back a sizable contract in order to cushion the blow of the team acquiring Hossa's large remaining cap hit, but there's also the matter of the cap penalty that the Blackhawks would have to absorb in order to shed Hossa from the team.
For those that don't remember, back when the new Collective Bargaining Agreement was signed in January, there was a provision in there about a process called "salary cap recapture." Basically, the system was designed to punish teams that had signed players to long-term front loaded contracts in order to lower a player's salary cap hit.
The Blackhawks have a couple of contracts like that on the team, with Duncan Keith's 13 year deal being slightly front loaded and Hossa's deal paying him $7.9 million a season for the first seven years of the contract, and a grand total of $3.5 million over the final four years of the contract.
The way cap recapture works is that a team "owes", in the form of a salary cap penalty, the total amount that the player's actual salary and cap hit are separated by. In Hossa's case, the math works out to $18.2 million over those first seven years of the deal, which can be paid off in yearly installments rather than all at once.
We published a chart back in March detailing how the salary cap penalty would work for that repayment, with a $9.1 million penalty per season coming for the Hawks if Hossa were to retire after the 2018-19 season.
IF the Blackhawks were to trade him now, they would still be on the hook for some of that cap penalty, since they've benefitted from his salary being higher than his actual cap hit for four seasons. If they were to deal him, the Hawks would owe a salary cap penalty of $1.86 million every season for the next eight years to pay off the $13 million different between salary and cap hit.
That penalty, while seemingly not that significant, would be enough to likely scuttle any deal for Hossa, unless Ottawa kicked in money, which they would not do because of the remaining term of the deal. So for those Hawks fans who would be appalled if Hossa were to be dealt, you likely don't have to worry.
Whether the Blackhawks will use an amnesty buyout on Hossa is a different story though. That option, which still would come with the recapture penalties mentioned above, would take Hossa's cap hit completely off the books, and would allow him to become a free agent, able to sign with any team. Several teams, including the Philadelphia Flyers with Ilya Bryzgalov and Danny Briere, have already said that they will use the buyout option, but Hossa is definitely one of the highest profile possibilities for the cap-saving move.
TSN's Bob Mackenzie doesn't think that the Hawks will use the buyout on Hossa, but rather on two other contracts that they buried with the Rockford IceHogs during the 2013 season:
Komisarek seems a given in TOR. I'd be shocked if CHI doesn't buy out Olesz and Montador. Colaiacovo is a possibility in DET.— Bob McKenzie (@TSNBobMcKenzie) June 26, 2013
The window to buy players out opens on Wednesday evening, which is 48 hours after the Cup Final ended, and closes on July 4th. Surely word will come down over that time as to whether or not the Hawks plan on buying Hossa out, although the smart money says they will not.
Whether Bowman agrees with that or not remains to be seen.