Costco is temporarily limiting fresh meat purchases to a total of three items per member, the company announced Monday.
"Costco has implemented limits on certain items to help ensure more members are able to purchase merchandise they want and need," the company said in a statement.
Fresh meat purchases are currently limited to beef, pork and poultry products.
National grocery superstore, Kroger, has also announced it is "limiting quantities on high demand items." Some signs in Chicago Mariano's stores, which are owned by Kroger, limit two packages of meat per customer.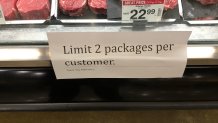 NBC Chicago reached out to Kroger for an official statement.
Wendy's restaurants in some locations across the country have temporarily booted burgers from their menus due to coronavirus-related closures at meat processing facilities that have disrupted the meat industry.
President Donald Trump took executive action in April to order meat processing plants to stay open amid concerns over growing coronavirus cases and the impact on the nation's food supply.
A senior White House official said the administration was trying to prevent a situation in which a "vast majority" of the nation's meat processing plants might have temporarily closed operations, reducing the availability of meat in supermarkets by as much as 80%.
Democratic presidential candidate Joe Biden on Monday called meatpacking plants — along with nursing homes — "the most dangerous places there are right now."
CDC researchers cited risks including difficulties with physical distancing and hygiene, and crowded living and transportation conditions. They suggested enhanced disinfection and that workers get regular screening for the virus, more space from co-workers and training materials in their native languages. Many meatpacking employees are immigrants; a CDC report on the Smithfield outbreak found that employees there spoke about 40 different languages.
Changes in Costco Guidelines Still in Place
No more than two people allowed to enter the warehouse with each membership card
Only customers ages 60 and older, along with people with disabilities, are able to shop between 9-10 a.m.
All customers must wear a face covering over their mouth and nose at all times while shopping
Customers cannot make returns on toilet paper, bottled water, sanitizing wipes, paper towels, rice and disinfecting spray
Food courts are open for takeout only with a limited menu
Shoppers must stand six feet apart at all times
As of Monday, Costco announced most U.S. locations and gas stations will return to regular operating hours.