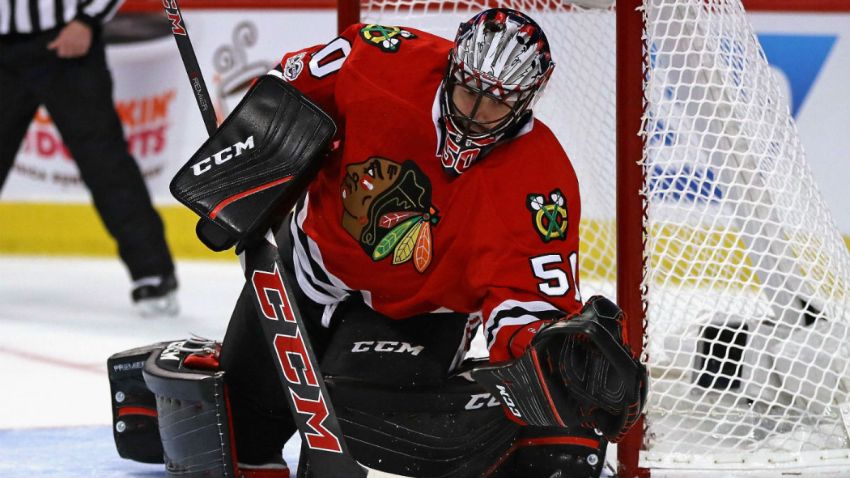 Chicago Blackhawks fans have watched Corey Crawford help backstop the team to a pair of Stanley Cup championships, but that apparently doesn't mean much in the eyes of national hockey pundits.
According to a new ranking of the top 10 goaltenders in the NHL, Crawford doesn't even crack the list. The ranking, compiled by NHL Network, debuted on Sunday night, and the list was topped by Montreal Canadiens goaltender Carey Price:
Capitals netminder Braden Holtby ranks second on the list, and he's followed by Sergei Bobrovsky (Columbus), Matt Murray (Pittsburgh) and Devan Dubnyk (Minnesota) in the top five.
Crawford had a bit of a down year in 2016-17, with a 2.55 goals against average, a .918 save percentage, and a 32-18-4 record for the Blackhawks.
Does that mean that he's not a top-10 goaltender in the NHL? Consider San Jose Sharks goaltender Martin Jones, who finished in ninth on the ranking. He had a worse save percentage than Crawford, and although he had three more wins than Crawford, he did play in 10 more games than the Hawks' netminder.
Los Angeles Kings netminder Jonathan Quick, who finished in sixth, appeared in 17 games last season, winning eight games and posting a 2.26 goals against average.