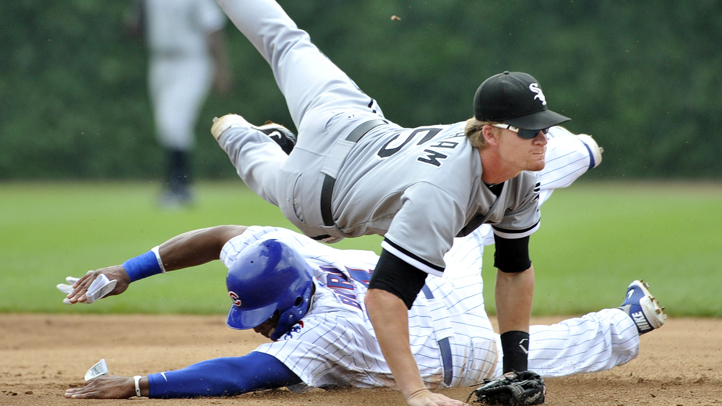 Phil Humber, backed by strong defense, pitched shutout ball for seven innings and Juan Pierre singled in the only run Saturday, lifting the Chicago White Sox past the Cubs 1-0.

Humber (8-4), who made the team in spring training and has become the White Sox's most consistent starter, allowed five singles and is now 5-1 in his last six starts.

He won a duel with Matt Garza, who held the White Sox hitless for 5 1-3 innings before Pierre singled. Garza (4-7) yielded only four singles in his first complete game with the Cubs and seventh of his career.

Cubs manager Mike Quade was ejected in the second inning for arguing a call at second on one of three double plays turned by the White Sox in the first three innings. Quade was tossed by second base umpire Paul Emmel after apparently protesting that White Sox second baseman Gordon Beckham didn't touch the bag on a pivot before relaying to first.

Matt Thornton pitched a perfect eighth and ninth for his third save in seven chances.

The White Sox have now beaten the Cubs 15 times in their last 20 meetings and are 4-1 this season.

Beckham worked a walk leading off the sixth, moved up on Humber's sacrifice and made it to third on Garza's wild pitch. After a close 1-2 pitch was called a ball, Pierre slapped a single to left over a drawn-in infield for the White Sox's first hit and the first run of the game.

Brent Morel followed with a single to put runners at the corners before Adam Dunn struck out and Paul Konerko flied out.

Pierre, who'd been criticized for his uneven play this season, came up with his third key hit in as many games. He'd delivered tie-breaking single to spark an extra-inning win over Colorado on Thursday and had a go-ahead two-run triple Friday in the White Sox's 6-4 victory.

The Cubs, meanwhile, grounded into double plays in each of the first three innings, spoiling any chance of an early offensive outburst against Humber.

They got the first two runners on in the first and second innings only to be turned away. And then in the sixth, Darwin Barney led off with an infield single off Humber's glove and Starlin Castro reached on a slow roller up the third baseline, again putting two runners on and no outs.

Humber then retired Aramis Ramirez and Carlos Pena on pops, threw a wild pitch to advance the runners and then retired Marlon Byrd -- who came off the disabled list before the game -- on a grounder.

Byrd returned to the lineup for the first time since he was hit near the left eye by a pitch from Boston's Alfredo Aceves on May 21, causing multiple facial fractures.

Byrd wore a protective flap over the left side of his batting helmet. He drew a four-pitch walk from Humber in his first at-bat in the second, following a leadoff single from Pena, who foiled a defensive shift with a bunt down the third base line.

Byrd then rolled hard into Beckham who still got off the throw to first after Alfonso Soriano's grounder to third. That brought Quade racing out of the dugout to argue. Castro hit into two double plays in the first three innings.
Copyright AP - Associated Press