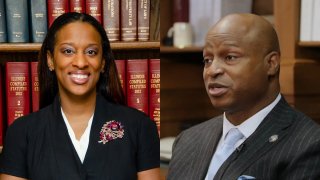 Illinois House Speaker Emanuel "Chris" Welch's wife ShawnTe Raines-Welch's campaign for Cook County judge has reported 10 contributions totaling more than $200,000 from current and former members of Welch's Democratic caucus in the legislature, state campaign finance records show.
Raines-Welch is running for judge of Cook County's Fourth Subcircuit.
On May 6, she reported high-dollar transfers into her campaign coffers from the committees of six current or former members of the House: $25,000 from Rep. Elizabeth Hernandez, $50,000 from outgoing Rep. Greg Harris, $20,000 from former Rep. Lou Lang, $25,000 from Rep. Jehan Gordon-Booth, $10,000 from Rep. LaToya Greenwood and $25,000 from Rep. Robyn Gabel.
When reached for comment, Harris said, "I'm happy to support diverse candidates that I've known and that support Democratic values."
Raines-Welch's campaign also reported $45,000 from Rep. Marcus Evans' committee on May 2, in addition to $5,000 from Evans on March 30. That same date, her committee also reported $3,000 from Rep. Rita Mayfield and $2,000 from Rep. Thaddeus Jones.
Altogether, that's $210,000 from eight current members of Welch's caucus and one former Democratic member of the House.
Shifting contributions from Democratic members of the House to other candidates is a move straight out of the playbook of former Speaker Michael Madigan. Madigan was indicted on 22 counts of racketeering, bribery, conspiracy and wire fraud in March following a years-long federal investigation. As that investigation swirled around Madigan during the race for speaker in January 2021, members of his caucus defected, to later coalesce around Welch.
NBC 5 reached out to the spokesperson who represents both Welch's and Raines-Welch's campaigns and did not receive a response.