Chicago police released new surveillance photos Tuesday night of a group of people they believe may have been involved in the fatal shooting of an incoming Northwestern University graduate student.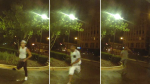 The shooting took place at around 8:25 p.m. Sunday night in the 7500 block of North Clark Street in the city's Rogers Park neighborhood, according to Chicago police.
Authorities said a 25-year-old man was walking down the street when he was shot in the abdomen, caught in the crossfire of two men shooting at each other. He was taken to Presence Saint Francis Hospital where he was pronounced dead, officials said.
Family members identified him as Shane Colombo, saying the doctoral student had only been in Chicago for a few hours when he became one of Chicago's latest victims of gun violence.
Colombo had just moved from New York where he had been working as a researcher at Columbia University, his family said, to Chicago where he was supposed to join Northwestern's Ph.D. program in the fall.
"Our hearts and minds are with Shane's loved ones during this difficult time," Teresa K. Woodruff, dean of The Graduate School, and Adrian Randolph, dean of Weinberg College of Arts and Sciences at Northwestern, wrote in a statement. "We extend our deepest condolences to Shane's partner, Vincent, and all of his family members and friends." [[492436831, C]]
Colombo's mother and partner talked about the impact he had on so many people.
"He would have made such a difference in this world," his tearful mother said.
His family said he survived cancer as a teen. Last December, Colombo and his partner got engaged. The couple planned to celebrate that engagement later this year.
"Shane, I know you're gone, I can still feel you," fiance Vincent Perez said, adding, "and I love you with all my being."
Chicago police say Area North detectives have been investigating the shooting, but so far no one has been taken into custody.
Anyone who recognizes the suspects in the photos, or who has information on the shooting, was asked to contact Chicago police.
A GoFundMe page has been set up to help with funeral expenses.