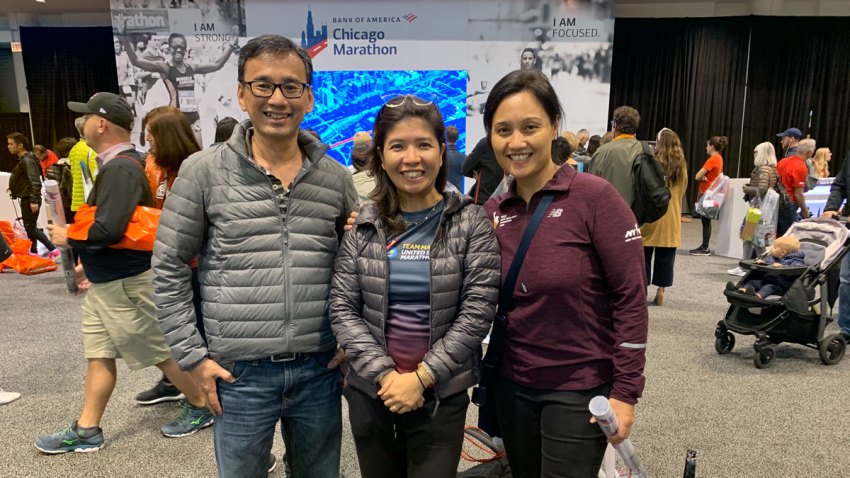 Juan Iten trains in the tropics, has never run in cold weather before and is not sure what to expect. Deidre McDonagh seems "very excited" by a cooler forecast for the Bank of America Chicago Marathon, as long as there are no surprises.
They were among the competitors at the Abbott Health & Fitness Expo picking up their racing bibs on Friday and starting to consider what the weekend's temperatures and windchill might mean for their race.
At the start of the race, temperatures are forecast to reach into the low-40s with dry conditions expected. Wind chill readings, however, will have it feeling closer to 32 degrees.
Though the temperatures will likely make for ideal running conditions, runners will still have to battle the wind, expected to gust at 15 to 25 mph out of the west-southwest.
Several runners at the expo said they planned to run in a tech T-shirt or singlet with removable arm sleeves, and shorts or compression tights.
That's the right approach, according to Kelley Gallagher, 27, with Nike's pacer team.
Gallagher, who has run Chicago's marathon three times and signed up as a pacer for the first time this year, said that "layering is the best thing that you can do." She recommended shorts, arm sleeves and a T-shirt, or a light long-sleeve tech shirt.
"It will feel warm. You'll have the adrenaline going," she said. She noted that while everyone is different, she expected that Sunday's race will have "conditions that most runners will want to run in."
Claudia Busto arrived to Chicago for marathon weekend from Guatemala with her nephew Iten, 22, who will be running on Sunday.
He said he's planning to wear a plastic garbage bag over a sweater and pants to discard before the start, advice that he said someone gave him. For the race itself he's planning to wear a singlet and shorts.
Busto said she brought a heavy coat to cheer him on from the sidelines and that her nephew has never run in cold weather.
"I think it's going to be a surprise for him," she said.
Austin Viano, who was working a clothing booth at the expo for First to the Finish, said his southern Illinois-based company was selling a lot of "throwaway items" for runners to use at the start of the race. They include $5 gloves and $20 warm-up jackets. If they had brought a lot of singlets to the expo, they wouldn't sell, he said.
Runners shouldn't feel bad about tossing warm-up clothes. Items that runners discard -- usually at the start of the race -- get picked up by volunteers and donated to Illinois AMVETS, marathon representative Alex Sawyer said.
At the expo, Rejina Rahim and her friend Rafiza Ghazali, both 47, marveled at a video screen that showed many runners from a previous marathon wearing singlets.
"I think they are used to it," Ghazali said of Chicago runners.
The pair have trained in warm weather in Malaysia together, though Ghazali previously ran the New York City marathon. She thought that was probably colder than Sunday's race will be.
Ghazali will wear tights and a dry-fit shirt while Rahim plans to wear a short-sleeve shirt under a rain jacket that she'll eventually tie at the waist. Rahim also has arm warmers that she can push down once her body heats up, she said.
Another friend in their group, Allen Ho, 50, will be wearing compression tights and maybe a T-shirt, he said.
If the trio was somewhat nervous about what to expect, McDonagh, 45, had no such hesitation.
She said she was "thrilled" about the forecast for her third marathon. It's her first in Chicago but she's used to running in the cold in New York, where she's completed her two previous marathons.
"Just wrap up in the morning, dump the clothes before you start then you're good," she said.
McDonagh has another milestone coming up in a week: She's getting married. She said she had to travel alone ahead of Sunday's race, because her fiancé had to work. He'll be tracking her progress online, she said.
Another racer who lives closer to Chicago, Erin Zimmer, 40, of Naperville, said she's also used to running in the cold and will wear gloves. The temperatures may affect whether her children turn out to watch her, she said.
Michael Savage, 39, isn't too worried about how cold it will be when he cheers his pregnant wife Petal on the sidelines. He plans to just wear a hoodie.
Petal, 32, who is five months along in her pregnancy said she has configured her singlet to give a gender reveal at the finish line for family and friends. The couple has traveled with their 7-year-old son from Columbia, Missouri, for the marathon.
"Not worried about the cold," she said.