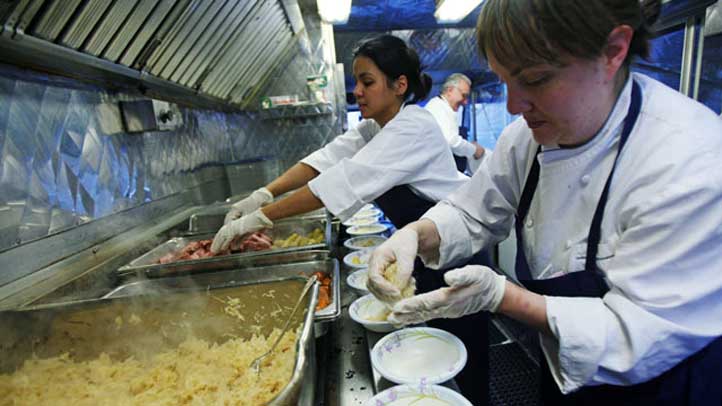 The long road for food trucks in Chicago just got a whole heck of a lot twistier: Operators have thrown down the accusation that cops and the city are cracking down to make those mobile snack carts a lot less mobile.
According to the Sun-Times, some vendors are alleging that the cops are tracking social-media announcements from the trucks and then heading them off at the pass. As far-fetched as it might seem, there is evidence that shows this is no conspiracy. Amy Le, who owns the DucknRoll truck, tells of a March meeting with city officials.
"During that meeting, she said, city officials casually asked about the best truck locations. In the days immediately afterward, police showed up at each spot and either ticketed the trucks or ordered them to move. Among the popular spots targeted were: Randolph and Franklin; Superior and Fairbanks, and 600 W. Chicago near the offices of Groupon, whose employees not surprisingly are very fond of food trucks."

Who knows who's behind all this, but, people: It's called capitalism. If restaurants are using their political influence to get the city to this… well, as a friend of the Sun-Times author Mark Brown put it: "If a restaurant can't compete with a rival that doesn't even offer its customers a place to sit, what does that say about the restaurant?"
On the other hand, it's somewhat ironic and funny that so many people have been paranoid of a future where the cops are keeping tabs on us 24/7 and using it against us. I just doubt anyone thought that tool would come in the form of Twitter.
For what it's worth, the Huffington Post spoke with Glenn Keefer of Keefer's Restaurant in River North, who thinks such measures are justified: "We've got enforcement issues, sanitation issues, traffic issues, and fairness issues. We pay $70,000 a year in property taxes to pay for the streets food trucks want to use."
Really? As the venerable Judge Judy once said: "Don't pee on my leg and tell me it's raining." These trucks aren't exactly cheap to even rent, much less buy. From an MSNBC story from 2010:
"As with almost any entrepreneurial endeavor, securing financing should be one of your first goals. Online forums and sales sites can help you determine your costs. If you want to start small, a standard, used hot dog style cart costs about $2,000 to buy, while refurbished trucks for driving and vending can run more than $40,000. That high price tag is usually due to local health department specifications, which any truck that serves food must comply with and be refurbished to meet."
Hey Keefer's? Time to stop resisting the wheels of progressing. A cursory Google search reveals you aren't exactly keeping up with Twitter.
You guys have two accounts, one of which yielded this: "Restaurant Week Lives. We're offering Special Restaurant Week Menus an extra 5 days. Lunch&Dinner thru Saturday 3/6.http://bizz.ly/hjpjgp" from March… 2010. Sure, you're active on Facebook, but don't let this stuff scare you. Last I checked, the restaurant scenes in cities like Portland are doing just fine. So let's see if we can't all enter the 21st century together here, unless we think that whole "second city" thing is actually something to be proud of.
Oh wait, it isn't.
David Wolinsky is a freelance writer and a lifelong Chicagoan. In addition to currently serving as an interviewer-writer for Adult Swim, he's also a columnist for EGM. He was the Chicago city editor for The Onion A.V. Club where he provided in-depth daily coverage of this city's bustling arts/entertainment scene for half a decade. When not playing video games for work he's thinking of dashing out to Chicago Diner, Pizano's, or Yummy Yummy. His first career aspirations were to be a game-show host.