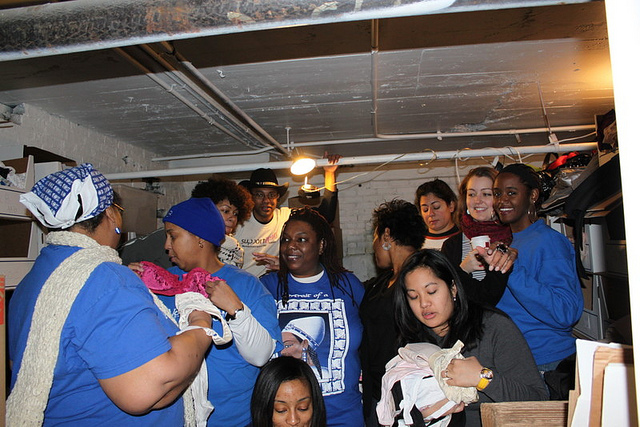 It speaks to the sheer magnitude of local nonprofit Support 1000's coming Bra-La-Palooza that it's able to grab attention so easily. The event, which takes place on August 25, is an open call to the volunteer community to help move, pack and ship 15,000 bras to social service professionals and organizations that assist women and their families all around the globe. First off, it's a lot of bras. And second, it's a lot of bras. It's eye-catching, and also possibly the first time many have heard of the organization, which was founded in 2008 by Logan Square resident Oz du Soleil.
I know that was the case for me, and was struck by how ambitious – and also specific – Support 1000's coming event will be. To find out more about it, how the organization got to where it is today and where it hopes to go from here, I gave Catherine Herzog, vice president of Support 1000's board, a call. (If you want to sign up to help volunteer or make a donation to their cause, click here and here, respectively.)
This is the first time you're attempting something like this, right?
Chicago Business
Catherine Herzog: This is. Up until this point we've had small volunteer organizations come in. We've shipped about 20,000 bras up until this point, so as of August 26 we will have doubled that hopefully.
What made you decide to step it up this year?
Catherine Herzog: That's actually a really good question. It was one of those things that someone said we should do and now here are two weeks out and we're doing it. But in the last year, Oz stepped down as executive director and resigned from the board, so we had a pretty large turnover of personnel and having people come in every two months or so just didn't seem to be quite generating the interest within the organization and outwardly as we really wanted. We were reaching a lot of people but we thought we could do more to connect with local community and with volunteers. We also wanted some way of celebrating, really, our volunteers, but with that, everyone we served. We work with a lot of amazing organizations and we formed pretty close relationships with them over the past years. Oftentimes we'll ship bras to the same organization every few months. So we have strong connections with them. We'll have the same volunteers come in, we work with local schools and we wanted a way to celebrate the women we serve, to celebrate non-profits in Chicago and all kind of in one day while keeping in line with our mission which is helping women around the world. We thought rather than having a party or a gala this was a great way to touch on all of the people that have gotten us this far while really launching ourselves into the next stage of the organization.
What's the reception been like?
Catherine Herzog: It's been very good with volunteers and this is the first time we've done this. We didn't have quite as much time, I would have loved to start this a year ago. It's been pretty fast, to be honest. We've had a good amount of media coverage from local blogs – I saw you found us on the Loganist – a lot of Twitter, a lot of international non-profit circles, but in terms of specific Chicago coverage it hasn't been too intense thus far. It's really exciting just to see what's coming and see it come together. Like any event we've gone through so many different ideas, so as we get close to it we're really excited just to see what happens and do it again next year and maybe it'll be 100,000 bras next year. But it's very exciting.
It sounds like this scope is something that's not new for you, but this magnitude is. If that makes sense? So, what are you doing to assure you won't be overwhelmed and that you'll be able to handle it.
Catherine Herzog: Well, we are an entirely volunteer-run organization, which I still think is really incredible. Everyone that makes it possible is doing it in addition to their day jobs. Not just the board but our "staff" as well is unpaid. So, it's really been a labor of love to plan this and to see what's taking shape. We have a wonderful team we're calling our Bra-La-Palooza committee that's Chicago-area volunteers. The friends and families and spouses are in there but we've also connected with some really great non-profit professionals who just have a shared passion either for the non-profit sector or specifically for women's organizations. We have about 12 people making this event possible, and out of that we've been connecting with a lot of volunteer organizations, we work with a lot of sororities, we work with a lot of schools, and so we're working with a lot of volunteers on the day of the event to make sure we ship all those bras. At the end of the day, if we get bras out, we're doing something right.
Are there any benchmarks like this you have further out?

Catherine Herzog: One of the things we do want to do is incorporate a higher level of education into our programming. Educating people why bras are important, because a lot of times it's a sticky idea and bras are sexy and fun and silly and people latch onto it and I can have a conversation with them, but raising awareness on why bras are important both in the US and internationally is something we want to do. Focusing on bra fittings for women and bringing more awareness to women's own bodies. We work with a lot of teenage volunteers and they don't really know what's going on with their bodies anyway, let alone how to fit a bra. So, incorporating that hands-on bra fittings, bra care and then the health aspects, as well, of breast-cancer awareness of all that.
How does your organization today resemble what it was when it started?
Catherine Herzog: That is a really good question. I've been here since pretty much the beginning. It feels very different. We're still pretty close to our original mission statement. What's changed overtime is, I think, our approach to who we're serving and why we're serving them. One of the things that we are asking ourselves now as we get to this major event is, "Are we still just an organization that ships bras?" And really starting to think that, no, we can be a lot more than that. And so while the original intent is still very much what drives us everyday, which is we ship bras – we get bras in, we get bras out – [we're] looking at other ways in which we can meet that. That's sort of the next step, I think.
I'm not assuming you're an expert on not-for-profits, but do you feel these sorts of organizations are intentionally less ambitious internationally in terms of scope? Do they play it safe?
Catherine Herzog: That is a really good question. I don't know if I actually have a solid answer to that. I think one of the things that's been very crucial in specifically our growth and also my work in the not-profit world is just flexibility and a willingness to listen to your volunteers and your donors and course correct. So, play it safe, yes, in terms of we're not going to do something that we don't feel like we have the support for. This is a very ambitious event, but it's something that's received such applause from everyone that we've talked to that we feel incredibly supported by the Chicago community, by our volunteers, by our organizations that we work with.
We're getting the backing we need, so even though it's a significant event, it doesn't feel risky. What we have had to do is really change the scope of the event a lot and really listen to our volunteers and our board members and to our staff to see what was possible and what we felt really was the organization. The difficulty in the not-profit world can be that you have a small group of people that have a vision and that vision might be very different from your vision of us as a journalist or the people who are sending us bras and making sure that we're really being true to the people we're working with. We're constantly adjusting our vision to making sure we're doing what's best for the organization and not just what's best for us.
How can people, as entrepreneurs, get involved?
Catherine Herzog: The areas that we are looking for in this event and also in general are volunteers, sponsors and donors. We always want volunteers. We love meeting people, we love people's expertise. We don't need volunteers just to come pack bras, but we need people who are passionate about business or helping women or whatever. Lawyers. Businessmen. Whoever feels like this is something that calls to them to bring their experience to the table. We're looking to expand our space. So, we're going to be doing a campaign probably in the next two years to raise money to find a space. We are currently out of a storage unit so it's not very glamorous. So, any sponsorship that people feel they can give, and also donors of financial resources. Our motto is "one dollar ships one bra."
David Wolinsky is a freelance writer and a lifelong Chicagoan. In addition to currently serving as an interviewer-writer for Adult Swim, he's also a comedy-writing instructor for Second City. He was the Chicago city editor for The Onion A.V. Club where he provided in-depth daily coverage of this city's bustling arts/entertainment scene for half a decade. When not playing video games for work he's thinking of dashing out to Chicago Diner, Pizano's, or Yummy Yummy. His first career aspirations were to be a game-show host.