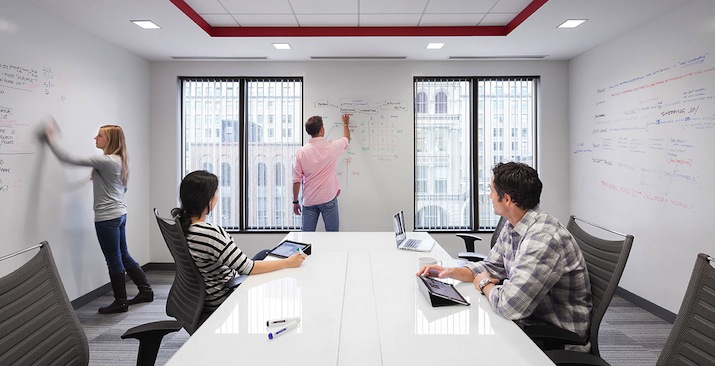 Imagine if during a huge project at work you were able to jump up from your desk and start mapping out your ideas on the walls without having to repaint after you are finished. That's the idea behind IdeaPaint.
IdeaPaint is possibly one of the most useful, innovative business tools you can use to improve your workplace.
You can apply IdeaPaint to most sealed, non-porous surfaces, including stained wood, painted drywall, plastic, metal, aluminum, chalkboards, and, ironically, whiteboards. This should not prevent your from getting creative. It is made for more than just walls and can be applied to cupboards, desks, and in waiting areas. Since IdeaPaint creates the opportunity for employees to interact with their thoughts there is also an important business application.
Because companies are increasingly asking their employees to do more with less, it is management's responsibility to equip their staff with the proper tools to increase efficiency and creativity. IdeaPaint is a low-cost solution that packs a huge punch.
So, the beauty of this product is that you instantly turn your workspace into one large creative workspace. This is useful for every area of the company from the finance department to the marketing department. You can jump up and add a flow chart to the wall, create a list, mind-map a new idea or work through a complex new sales strategy.
I spoke with Karen Lyon, VP of Brand Marketing, at IdeaPaint. She described IdeaPaint as, "A low tech-solution in a high-tech world… It helps people get together to spread out their good ideas. The fact that the idea is not permanent allows that idea to grow. You can erase it and start over or someone can add a thought or a process to that idea."
Because IdeaPaint turns every wall into a tool you are freeing your employees to express themselves and get creative anywhere anytime. There is a high value to having easy access to tools. This also will increase your employee collaboration by not limiting those interactions to conference room.
When I asked Karen how difficult it is to add IdeaPaint to your office and how long you should expect it to last she said, "The paint is super-easy to add yourself, in fact we have a professional painter in our office you call to get advice on application. As for how long it will last -- there is a 10-year warranty and we guarantee there will be no shadowing like a normal white board."
You can learn more here about the different types of IdeaPaint here.
Jabez LeBret is the author of the Amazon No. 1 bestselling law office marketing book How to Turn Clicks Into Clients. As a partner at Get Noticed Get Found, a legal marketing agency, over the last nine years he has delivered over 800 keynote addresses in six countries. His main area of expertise is managing Gen Y in the workplace, advanced Facebook strategies, LinkedIn strategies, Google+, SEO, local directory optimization, and online marketing.