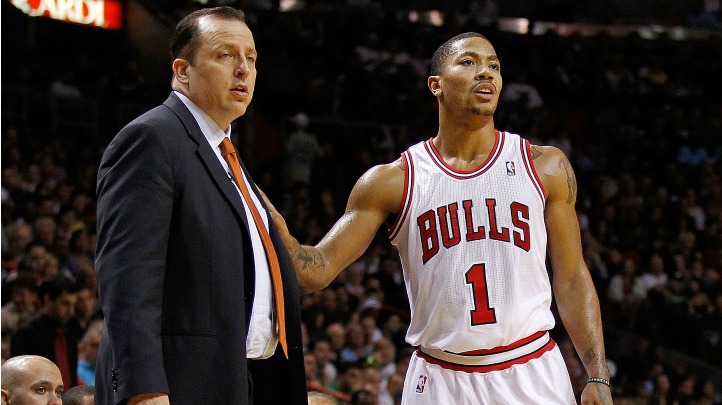 Kevin Durant is one of the NBA's brightest stars. Going into his seventh NBA season, Durant has already led his Oklahoma City Thunder squad to an NBA Finals appearance, he's led the league in scoring three of the last four seasons, he's been named an All-Star four times and is an Olympic gold medalist.
That said, he's been around long enough to recognize the best and brightest in the game of basketball and when it comes to the Chicago Bulls, he's gained a certain amount of respect and admiration for Tom Thibodeau.
"I had the chance to talk to coach Thibs a little bit. I was working out with D-Rose this summer a couple of times, and he stopped by one time," Durant said in an interview with CSN Chicago. "I had the opportunity to talk to him, just to pick his brain. With him being a new head coach, he's been around the game for a long time, around so many great minds. He just told me how he approached every single day with his team, and managing egos, managing different feelings and emotions from different players and how he brings it together."
Thibs, since taking over as the Bulls head coach, has established himself as one of the best in the game and has Chicago in a legitimate hunt for an NBA Championship. He is regarded as one of the best defensive minds in basketball and like Durant, Thibs is known as a gym rat.
You can almost always find him at the Berto Center working with players, sitting in his office watching film, or looking out of his office window that overlooks the practice floor and watching his guys work out with the other coaches on his staff as well as trainers. And that has earned him the respect of Durant who himself is a self-professed basketball junkie.
"He doesn't worry about anything but the game of basketball. He doesn't worry about contracts, issues, none of that. He just worries about the game of basketball, and I really respect that. I really enjoyed my time talking with him, and he opened my eyes to a lot of different things. I can see why the Chicago Bulls are so successful."