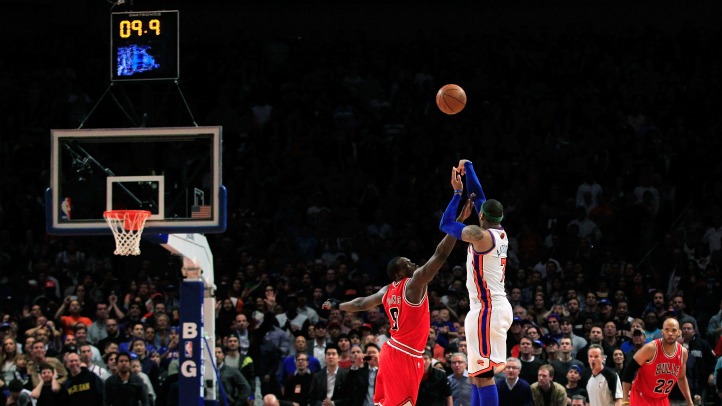 The month of December isn't quite over yet, but considering it's the holiday season, it's been a month that has been very kind to the Chicago Bulls.
In the final month of 2012, Chicago has defeated four of the heavyweight teams in the Eastern Conference (Philadelphia, New York, Brooklyn, Boston) all while battling injuries to key players and fighting through struggles on both the offensive and defensive sides of the ball.
Earlier this week, Chicago had a tough back-to-back where they lost a winnable game to the Memphis Grizzlies, but bounced back and outplayed the Boston Celtics from the opening tip to the final buzzer. Now, the Bulls have another back-to-back at week's end, starting with the New York Knicks – who sit atop the Eastern Conference standings – on Friday in Madison Square Garden and ending Saturday at the United Center where they'll host the lowly Washington Wizards.
The Knicks will be a tough matchup for the Bulls, as Carmelo Anthony – who sat out New York's 93-85 loss at the United Center two weeks ago – has been lighting up the NBA and playing the best basketball of his career this season. Many have him as an early favorite for league MVP this year.
Winning at Madison Square Garden has been tough for Chicago lately, and fans – as well as the team itself – remember all too well what happened the last time the Bulls faced Anthony and his Knicks squad in New York.
Anthony torched the Bulls for 43 points, including two very big and memorable shots: a three-pointer to send the game into overtime and another to win in the extra session, both makes coming from the same spot on the floor.
But beating good teams has given Chicago a renewed sense of confidence and they're heading into the game with a healthy respect for their Friday night opponent and they know exactly what they need to do to win.
"[The Knicks] are a very good team – No. 1 in the East. They've got a lot of firepower," Joakim Noah, a native New Yorker, told CSN Chicago after practice Thursday afternoon. "We've just got to come in with the right mindset. … Our defense has to be consistent. If we play a good defensive game, we'll have a shot."
"We've just got to match their energy," Nate Robinson said. "We need to run them off the three's and for us, just continue to put it together; stay in our defensive coverage's, everybody share the ball and have fun."
Follow "Outside Shot" on Twitter (@Outside_Shot) for more Bulls news and information.