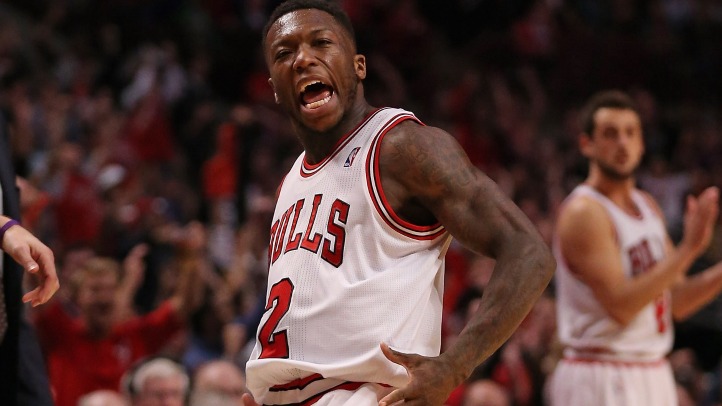 The United Center. Where NBA winning streaks go to die.
The New York Knicks came to town Thursday night boasting an impressive 13-game winning streak and a red-hot Carmelo Anthony who was averaging nearly 41 points per game in New York's last five outings. But despite back-to-back bad losses against the Detroit Pistons and Toronto Raptors, the Chicago Bulls fought hard against New York and prevailed in overtime, 118-111.
The win puts Chicago a half-game up on the Atlanta Hawks for fourth place in the Eastern Conference standings, with just four regular season games remaining. Desperately trying to avoid a first-round matchup with the Indiana Pacers, the Bulls have a great chance to do so with the remaining games on the schedule.
They get a rematch with the Raptors on the road Friday night, then it's down to Miami on Sunday to face the Heat. From there the Bulls will travel to Orlando to take on the Magic Monday night and then it's back home for the season finale against the Washington Wizards on Wednesday.
The Good
It would be fair to say that Nate Robinson (35 points), who had a season high in points scored, led the Bulls to victory over the Knicks. His play off the bench sparked the Bulls and the diminutive guard came up big in the second half and in overtime. Jimmy Butler (22 points, 14 rebounds) was also huge for Chicago, doing a great defensive job on Carmelo Anthony (36 points, 19 rebounds) who had to take 34 shots to get his points on Thursday night. Rip Hamilton (14 points, eight assists) played well in a reserve roll off the bench, and Luol Deng (16 points, eight rebounds) and Carlos Boozer (13 points, 15 rebounds) who played center, contributed as well. The Bulls were able to push the tempo, outscoring the Knicks on the fast break, 16-8. Chicago also only committed eight turnovers in the game and their defense forced seven steals and blocked nine shots. The Knicks also shot just 40 percent from the field, taking an astonishing 104 shots in the game to the Bulls' 87. Chicago's bench outscored the Knicks 49-28 with J.R. Smith accounting for all of New York's bench points.
The Bad
The Bulls were down by as many as 17 points in the first quarter and it looked like it was going to be a long night early on. Chicago also couldn't really get a significant edge on the glass as they barely outrebounded New York, 53-52.
The Ugly
Despite his double-double, Carlos Boozer has struggled in his last two outings going just 10-31 from the field. Boozer, Hinrich, Belinelli and Deng combined to shoot 14-40 against the Knicks on Thursday night.
Follow Outside Shot on Twitter (@Outside_Shot) for more Bulls news and information