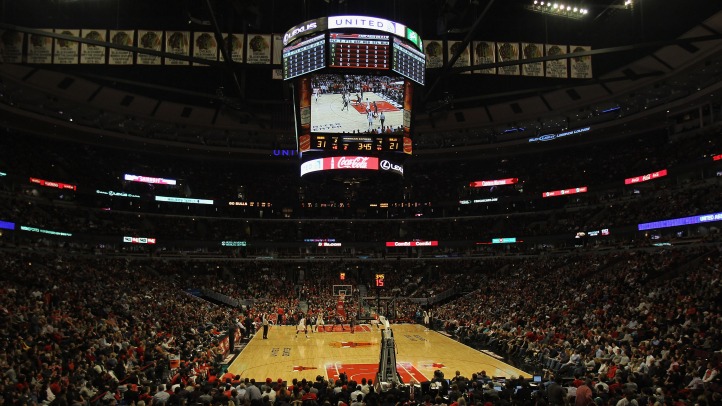 After holding down the sixth spot in the Eastern Conference standings, the Chicago Bulls woke up Wednesday morning to find themselves one spot up in the standings. The Atlanta Hawks were holding firm to fifth place, but a loss to the Indiana Pacers on Monday night allowed the idle Bulls to gain slight ground.
Of course, that all could change by Thursday. Both the Hawks and Bulls are in action Wednesday night and Atlanta has a great chance to win their game against the Toronto Raptors. But Chicago will be fighting an uphill battle as they host the Miami Heat who will be looking for their 28th consecutive victory as they pursue the 1971-72 Lakers historic streak of 33 consecutive victories.
Of course, it doesn't really matter what happens in the East between now and the conclusion of the regular season as the playoff field is pretty much set. It's just a matter of teams jockeying for position from here on out.
Seven-and-a-half games separate the eighth place Milwaukee Bucks from the ninth place Philadelphia 76ers who have almost no chance of making it into the post season. Chicago and Milwaukee are separated by four games, while Chicago and Boston – who are on a five-game losing streak – are separated by two and a half games, and Chicago and Atlanta are deadlocked.
The postseason is all about matchups and if the playoffs started today, the Bulls would face off against the Brooklyn Nets in the opening round. But it would also put them on the same side of the bracket as the Miami Heat, a situation they'd probably like to avoid if at all possible.
The best scenario for the Bulls would be a first round series against the New York Knicks, meaning they'd have to finish in sixth or seventh place in the standings. New York, who held firm to third place, is currently in second, just slightly ahead of the Indiana Pacers.
For now, Chicago's primary focus should be to get as healthy as possible heading into the playoffs, but their secondary focus should be positioning themselves for the best opportunity to advance as far as they can this postseason.
Follow Outside Shot on Twitter (@Outside_Shot) for more Bulls news and information.