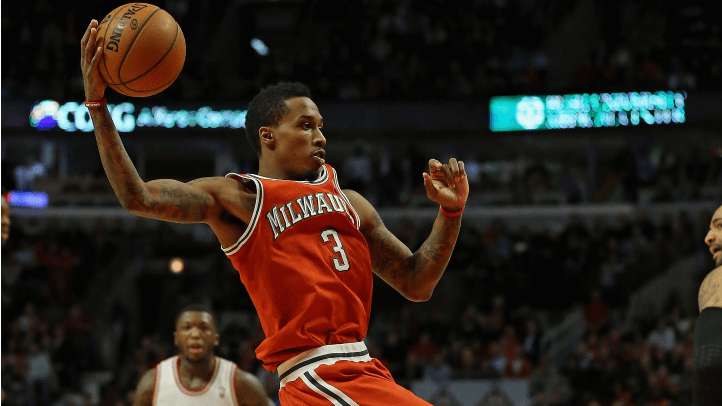 Milwaukee Bucks guard Brandon Jennings says he didn't appreciate the jawing that Nate Robinson was giving him in the first half of Wednesday night's game against the Bulls. The Bulls as a team shot the ball well in the first half and Robinson found himself in a nice groove with 13 points on 5-6 shooting from the field and 3-3 from behind the three-point line.
Him playing well caused him to jaw at Jennings a bit, which upset the Bucks star.
"I guess he felt like he had it going, he was getting the best of me," explained Jennings after Milwaukee's 106-94 victory. "I don't really take trash talking too kindly because I don't do a lot of trash talking. But I warned him, so hey, it happens. I got ticked off at halftime and right from the jump, I just started attacking and that's just something I have to do more often, just keep attacking and having a short memory."
Jennings put up 20 points in the third quarter and really took over the game – while mocking Robinson's airplane celebrations in the process – connecting on four big three-pointers and making some difficult shots as well. Comparatively speaking, the Bulls scored just 23 points in the quarter as a team.
Tom Thibodeau didn't seem all that pleased at Robinson's attempt to perhaps take a page out of Kevin Garnett's book when he clearly – and controversially – frustrated New York Knicks star Carmelo Anthony the night before.
"It's a competitive game. Some guys do it and they're fine. To me, if you do it and that's the way you are and you're not distracted — I'd prefer to just concentrate on doing your job," said Thibodeau.
As for Robinson, he downplayed the incident entirely, citing it as one of those things that just happens in the game of basketball.
"Brandon Jennings had a hot period. It happens," said Robinson in the Bulls locker room after the loss. "It's just part of the game. Nobody wants to get scored on, but it's a team game. You can't get caught up in playing one-on-one, so for us, we've just got to continue to play hard. It happens all the time ... It's basketball."
Follow "Outside Shot" on Twitter (
@Outside_Shot
) for more Bulls news and information.