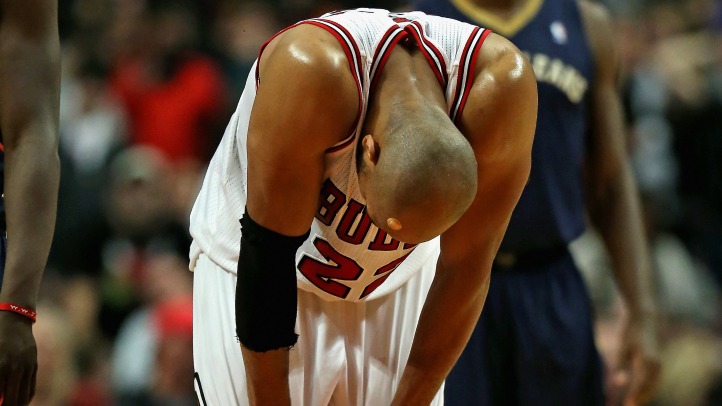 Six days ago the Chicago Bulls were celebrating a much needed victory over their rival the Miami Heat. But that seems like such a long time ago as they've lost their last two games, including Tuesday night against the Milwaukee Bucks, the worst team in the already bad Eastern Conference.
Joakim Noah was a late scratch from the lineup with a thigh bruise, Luol Deng sat out with his Achilles injury and of course, Jimmy Butler is still out with turf toe and Derrick Rose with his knee injury. In all, Tom Thibodeau dressed only eight players and the Bulls have now lost eight of their last 10 contests.
In a season that began with championship aspirations, the goal now for these Bulls is to have enough healthy bodies to compete.
"We're losing to teams we should be beating. Especially at home," Taj Gibson said after the 78-74 loss to Milwaukee. "Lately, we tend to lose focus."
"There's a way to win every game," Tom Thibodeau said. "You have four starters out. If you defend and rebound and take care of the ball, you can be in position to win. Everyone who is called upon is capable."
But that capability didn't show on the court, especially in the backcourt.
Kirk Hinrich shot a woeful 0-10 from the field while Marquis Teague finished the game shooting 1-7. They combined to score just three points in the game. Hinrich has been especially bad. The veteran point guard has shot 1-20 in his last two games.
"I need to play better myself, get my mind right," Hinrich said of his struggles. "If I make some shots, we have a chance to win both these games."
The Bulls won't have very much time to reflect on the Tuesday night loss as they travel to New York to take on the Knicks on Wednesday night in Madison Square Garden.