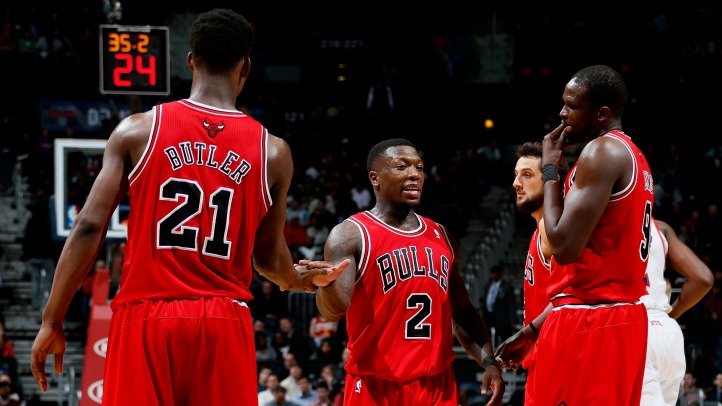 Well, here we are at the halfway point of the season, and now is a good time to evaluate the Chicago Bulls after the first 52 games they've played. If nothing else, the Bulls have been consistently up-and-down, scoring big wins against good teams and bad losses to squads they should've easily gotten by.
All things considered, being in fourth place in the Eastern Conference standings without Derrick Rose, who could miss the entire season, it's not a bad place to be.
Tom Thibodeau has done more than any coach in the NBA by taking a newly assembled group of guys and turning them into a competitive bunch on both the offensive and defensive sides of the ball. The coach has made Luol Deng into an All-Star, again, and helped Joakim Noah finally reach All-Star status after coming so close in the previous years.
Thibs has gotten great production out of guys like Marco Belinelli and Jimmy Butler who have both thrived since being given an opportunity to start at different points this season. The coach's "next man up" mentality has really embedded itself into the minds of his players and when starters have gone down due to injury, there has been virtually no drop-off in production when reserves have had to transition from the bench to hearing their name called during opening player introductions.
That's an impressive job of coaching on the part of Thibodeau.
Carlos Boozer has really picked his game up this season and has contributed greatly to the Bulls success. The 10-year veteran has been an easy target for fans complaining about his salary as it relates to his on-court production, but this season, Booz has earned every dime.
When word of a potential trade of Boozer for the Toronto Raptors' Andrea Bargnani surfaced last week, even the harshest of his critics didn't want to see that deal go down, and with good reason. Boozer has been one of the most, if not the most, valuable player on Tom Thibodeau's roster this season.
Of course, there have been some ongoing issues that haven't seemed to correct themselves as the season has progressed. The Bulls turn the ball over way too much and they've really struggled with their 3-point shooting.
The bench, as a unit, has been terribly inconsistent this season and at times, unreliable. After being one of the key reasons to the team's success the past two seasons, the reserve unit hasn't played as much of a part in the Bulls success this season.
So how are the Chicago Bulls winning games? Like they always have: with defense. This is another spot where Tom Thibodeau deserves a bunch of credit. With an influx of guys known more for their scoring abilities, Thibs has turned them into a focused and hard-nosed bunch on the defensive side of the ball. Not many coaches can do that.
All told, you have to be pleased with what Chicago has managed to do in the first half of the season with its best player not in uniform, and it seems unlikely the team will regress during the second-half of the season. The Bulls may not be a championship caliber squad, but they're certainly not the terrible team that many expected them to be at the outset of the season,
Midseason Grade: A
Follow Outside Shot on Twitter (@Outside_Shot) for more Bulls news and information