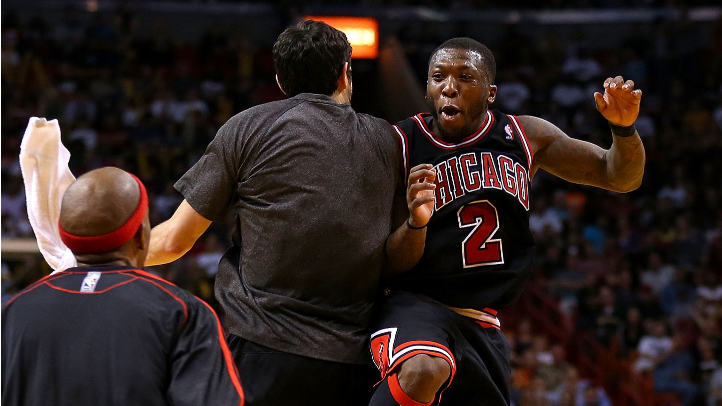 One of the more frustrating things about the Chicago Bulls this season has been their inconsistency. From one night to the next, you're never really sure which team will show up.
But on Friday night, after struggling all season to beat the NBA's top teams, it was the competitive and defensively locked in Bulls that showed up in Miami to play the Heat. The Bulls came away with a stunning 96-89 victory over the defending NBA Champions. Despite an up-and-down campaign thus far, the Bulls have played well on the road in the month of December and went into Miami with a 6-1 record away from home.
The Heat, on the other hand, have been coasting through the season but hit a minor bump dropping back-to-back games to Detroit and Milwaukee after Christmas and then were pushed to back-to-back overtime contests – and victories – against Orlando and Dallas before squaring off with the Bulls.
While many people expected a blowout on the part of the Heat, history has proven over the last few years that whenever these two teams meet on the court, the games are always fun to watch and competitive and Friday night was no different.
The Good
During the offseason, Carlos Boozer (27 points, 12 rebounds) makes his home in Miami and he seemed quite comfortable playing in American Airlines Arena as he led the Bulls offensive attack. Joakim Noah (13 points, 12 rebounds) had been struggling with flu-like symptoms for the last few games but looked to be his normal, high-energy self against the Heat on Friday night. Kirk Hinrich (10 points, eight assists) also played well as did Nate Robinson (13 points) off the bench. After being outrebounded their last five games, the Bulls aggressively attacked the glass and dominated Miami on the boards (48-28), points in the paint (46-34) and second-chance points (20-7). The Bulls also outscored the Heat's bench, 33-14 in the game.
The Bad
The Bulls were back in the double-digits in turnover margin, giving the ball away 15 times in the game and Miami capitalized with 16 points off those turnovers. The Heat was also more effective in transition, scoring 13 fast-break points to Chicago's seven.
The Ugly
Luol Deng (six points, four rebounds, five assists) really struggled in his matchup with LeBron James (30 points, six rebounds) who dominated him. Rip Hamilton (seven points) was also outdone by his counterpart Dwyane Wade (22 points) in the scoring category. Taj Gibson (five points, nine rebounds) really struggled with his offensive game, shooting just 1-6 from the field. Jimmy Butler (eight points, five rebounds) also struggled offensively, going 2-6 from the field.
Follow "Outside Shot" on Twitter (
@Outside_Shot
) for more Bulls news and information.