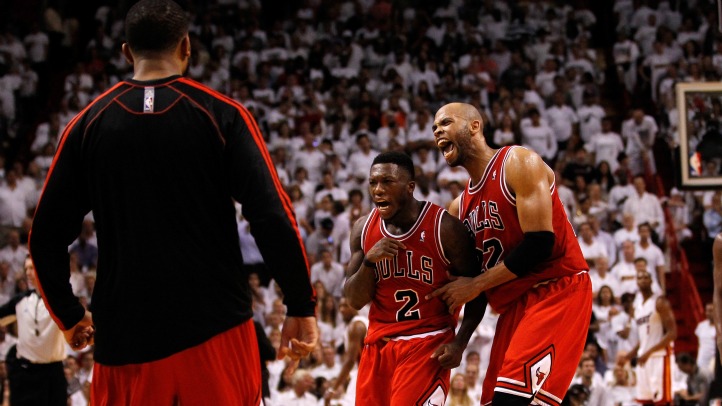 You'll be hard pressed to find anyone who thought the Chicago Bulls had a chance to go into American Airlines Arena and steal Game 1 from the Miami Heat in the second round of the NBA Playoffs. But that's exactly what happened as Chicago took the opening game of the series against Miami on Monday night, 93-86.
After a grueling seven-game series with the Brooklyn Nets that ended on Saturday, the quick turnaround would've seemed to put the Bulls at a disadvantage.
But Chicago once again showed the toughness and grit that has been on display all season with this group. No matter how shorthanded or who's hurt, the never-say-die mentality this squad has adopted now has them up 1-0 on the defending NBA Champions.
The Good
What else can be said about Nate Robinson (27 points, nine assists) this season? He's stepped up and played well in the absence of Kirk Hinrich and once again he was the catalyst to the Bulls victory, despite requiring 10 stitches in his lip after being squashed by LeBron James as the two dove for a loose ball. Jimmy Butler (21 points, 14 rebounds) did a fantastic job starting for Luol Deng and also guarding LeBron James. The second-year swingman – who has played every single minute of the Bulls' last three games – actually outplayed the league MVP in Game 1 and that's not something that happens to LeBron often. Joakim Noah (13 points, 11 rebounds) pitched in with a double-double, Marco Belinelli (10 points, seven rebounds) was solid, as was Taj Gibson (12 points) off the bench. Chicago was +14 in rebounds (46-32), +8 in points in the paint (40-32), and +9 in second-chance points. Chicago's defense also forced Miami into shooting 40 percent from the field and 29 percent from the three-point line in the game. The Bulls also had five players score in double-digits to the Heat's two.
The Bad
The Heat bench outscored the Bulls 30-16 in Game 1. Of course that's largely due to the fact that Chicago has two reserves in Robinson and Belinelli currently in the starting lineup. The Bulls also committed 16 turnovers in the game that the Heat turned into 22 points.
The Ugly
Carlos Boozer (six points, seven rebounds) had a forgettable Game 1 as he shot just 3-11 from the field in the contest.
Normal 0 false false false EN-US JA X-NONE /* Style Definitions */ table.MsoNormalTable {mso-style-name:"Table Normal"; mso-tstyle-rowband-size:0; mso-tstyle-colband-size:0; mso-style-noshow:yes; mso-style-priority:99; mso-style-parent:""; mso-padding-alt:0in 5.4pt 0in 5.4pt; mso-para-margin:0in; mso-para-margin-bottom:.0001pt; mso-pagination:widow-orphan; font-size:12.0pt; font-family:Cambria; mso-ascii-font-family:Cambria; mso-ascii-theme-font:minor-latin; mso-hansi-font-family:Cambria; mso-hansi-theme-font:minor-latin;} Follow Outside Shot on Twitter (@Outside_Shot) for more Bulls news and information