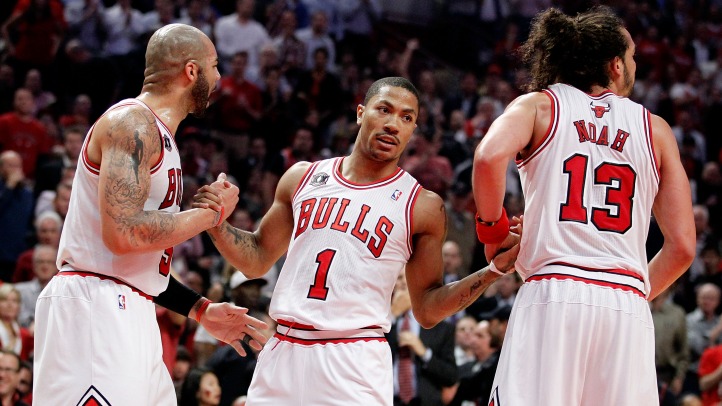 The Chicago Bulls are set to open training camp on Friday afternoon at the Berto Center, officially kicking off the 2013-14 NBA season. The annual media day event will give fans a chance to see the latest version of the Bulls roster, which could also mean the final time we'll see the current core together.
With Luol Deng almost certain to go into free agency next summer and Carlos Boozer a likely amnesty candidate, the Bulls squad that fans have grown to love over the past four seasons and the one the other 29 teams in the NBA have come to respect, looks to be entering its final run together.
And with Derrick Rose back in uniform this season, the expectations have moved back to "championship or bust" levels for Chicago. Still, it's an exciting time in the Windy City on the basketball front due to the extensive number of unknowns surrounding this team.
Will D. Rose come back a better player after his injury? How good is Jimmy Butler, really? Can Joakim Noah avoid the plantar fasciitis issues that have plagued him for much of his career? Will Thibs play the rookies? How much has Marquis Teague improved?
These will be just a few of the storylines one can expect to read and hear about this year, but one thing is for certain: If any of these questions are favorable for Chicago, the Bulls have a very good chance of making their final run together a championship run.
Be sure to check the Outside Shot twitter account (@Outside_Shot) for even more media day coverage at the Berto Center on Friday.