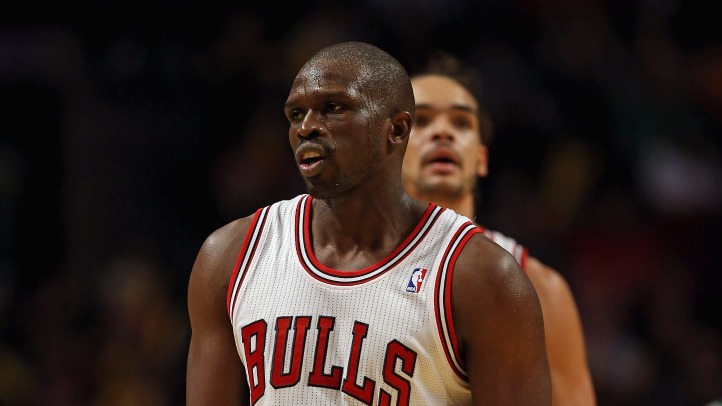 Through the first six weeks of the NBA season, Joakim Noah is having one of the best years of his career. His scoring output is up along with his assists, free-throw percentage and blocks. However, there's also another category that's at an all-time high for Noah: his minutes.
Jo is averaging nearly 40 minutes per night on the floor, at 39.8. That's exactly seven minutes greater than his previous high of 32.8 minutes set during the 2010-11 season. But the high-energy center isn't too worried about it right now. He's said previously that he feels OK with Thibs leaving him out there so much, and he's getting help from Luol Deng, who is all too familiar with the concept of seemingly never coming out of a game.
"I didn't really care that much about Lu and his minutes," Noah said after the Bulls victory over the Knicks on Saturday night. "Now I just have a whole, newfound respect for it."
Deng currently is leading the NBA in minutes per game at 41.2 this season, and he led the NBA in minutes with 39.4 per game last season. In fact, since Tom Thibodeau arrived as head coach of the Bulls, Luol has averaged no less than 39 minutes per and is more than willing to coach Joakim on how to take care of his body, even if he isn't always receptive.
"He doesn't listen. You just have to get Joakim to do it when you're doing it," Deng said jokingly before praising Noah on just how well he's taking care of his body. "Jo is doing a lot better with resting, taking care of his body and really adjusting to the minutes he's been playing. I think he hasn't played these kinds of minutes before, so I just keep staying on him and telling him that it's a long season. We're not even halfway through it and it's going to catch up with you if you don't take care of yourself."
"Whenever I feel bad, I always go and ask Lu, 'What should I do?'" said Noah. "He's been doing this for a long time, so he definitely has some tricks up his sleeve. I think the most important thing is sleep. I have a hard time doing that sometimes."
The Bulls' next opponent won't be sleeping on Noah. The Los Angeles Clippers aka "Lob City" will invade the United Center Tuesday night. Hopefully Joakim will be well rested for the battle inside with DeAndre Jordan and of course, Blake Griffin.
Follow "Outside Shot" on Twitter (@Outside_Shot) for more Bulls news and information.