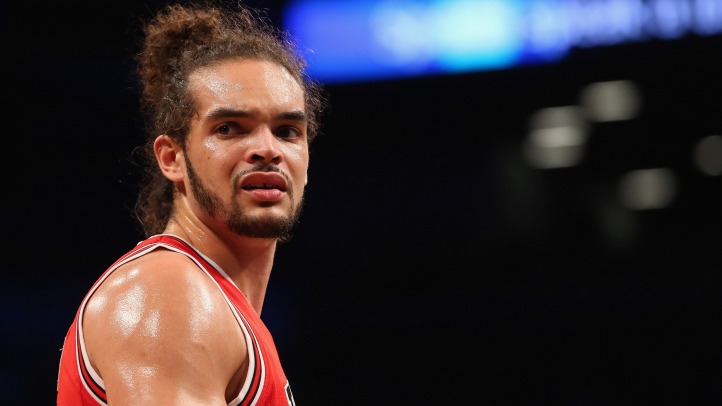 Joakim Noah may have increased his fan base with the way he's battled on the court and competed in the Bulls first round playoff series with the Brooklyn Nets despite dealing with painful plantar fasciitis in his foot. But on Wednesday after the team's practice at the Berto Center, Noah opened up about how he really feels about the pain in his foot.
"It really sucks. Plantar fasciitis sucks," Noah said. "It feels like you have needles underneath your foot while you're playing. That's what it feels like. You can imagine how hard it is when you need to run or you need to jump; all the things you have to do when playing basketball. I mean, you don't want needles in your feet, right?"
Just watching Games 1 and 2, it was easy to see how hobbled the Bulls center was, but in Game 2, he seemed to play with the energy of someone who doesn't feel as if they have needles in their feet. His 10 points, 11 rebounds and timely plays on the defensive end are what sparked the team to victory and knotted the series at 1-1.
Now, a pivotal Game 3 awaits both teams with Chicago having the advantage of playing in front of the home crowd at the United Center, and Noah appreciates any moment he gets to play in the postseason.
"It's an exciting time of the year and I'm happy to be a part of it," Noah says. "You work hard in the summer time and you work hard all season to put yourself in the best position for the playoffs. It's all about that. Until you're a part of it, until you feel it, then you'll know what it's all about. I've been to a few of these things and I take nothing for granted. I appreciate it so much and I'm not taking it for granted because you never know how many of these [playoffs] you'll get to play in."
Normal 0 false false false EN-US JA X-NONE /* Style Definitions */ table.MsoNormalTable {mso-style-name:"Table Normal"; mso-tstyle-rowband-size:0; mso-tstyle-colband-size:0; mso-style-noshow:yes; mso-style-priority:99; mso-style-parent:""; mso-padding-alt:0in 5.4pt 0in 5.4pt; mso-para-margin:0in; mso-para-margin-bottom:.0001pt; mso-pagination:widow-orphan; font-size:12.0pt; font-family:Cambria; mso-ascii-font-family:Cambria; mso-ascii-theme-font:minor-latin; mso-hansi-font-family:Cambria; mso-hansi-theme-font:minor-latin;} Follow Outside Shot on Twitter (@Outside_Shot) for more Bulls news and information