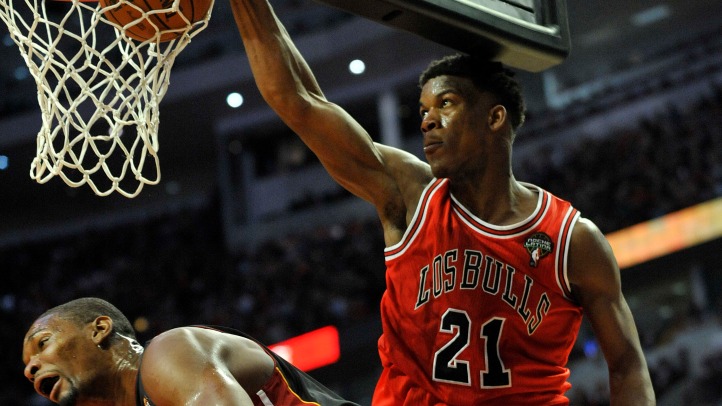 When the Chicago Bulls turned over their roster last summer, most people were concerned with who the team would bring in as opposed to the guys who would be coming back. And one of those returning players, Marquette alum Jimmy Butler, nobody expected much from at all.
After barely getting a chance to play as a rookie, not even a standout performance at last summer's NBA Summer League in Las Vegas was enough to make people feel Butler could make a significant impact in his second year. And they were almost right.
For the first two months of the season, Butler played but didn't make enough of an impact to start turning heads. But that all changed in mid-January when Luol Deng got hurt and Butler was thrust into the starting lineup against the Memphis Grizzlies on the road.
He dropped 18 points, grabbed eight rebounds and got three steals. Not bad, right? But his real coming out party would be the following game at home against the Los Angeles Lakers and Kobe Bryant.
Matched up with the future Hall of Famer, Butler's defense forced Bryant into a 7-22 shooting night. After the game, Butler's teammates were calling him the "Kobe Stopper" and Bryant himself was very complimentary of his performance on the defensive end. From that point on, Jimmy Butler never looked back as he averaged 8.6 points, four rebounds and one steal per game while shooting 47 percent from the field, 38 percent from the three-point line and 80 percent from the charity stripe, all career-highs.
In the playoffs, Butler increased his averages to 13.3 points, 5.2 rebounds and 1.3 steals while shooting 44 percent from the field, 41 percent from the three-point line and 82 percent from the free-throw line.
He also found himself drawing the defensive assignment on LeBron James in the Bulls second round series against the Miami Heat and more than held his own against the four-time league MVP.
Jimmy Butler's emergence was a very pleasant but totally unexpected surprise this season and the scary thought is that he's only in his second year and is going to get better. He will definitely be a starter for Tom Thibodeau next season and being paired in the backcourt with a healthy Derrick Rose should be an exciting thought for Bulls fans everywhere.
Grade: A+
Normal 0 false false false EN-US JA X-NONE /* Style Definitions */ table.MsoNormalTable {mso-style-name:"Table Normal"; mso-tstyle-rowband-size:0; mso-tstyle-colband-size:0; mso-style-noshow:yes; mso-style-priority:99; mso-style-parent:""; mso-padding-alt:0in 5.4pt 0in 5.4pt; mso-para-margin:0in; mso-para-margin-bottom:.0001pt; mso-pagination:widow-orphan; font-size:12.0pt; font-family:Cambria; mso-ascii-font-family:Cambria; mso-ascii-theme-font:minor-latin; mso-hansi-font-family:Cambria; mso-hansi-theme-font:minor-latin;} Follow Outside Shot on Twitter (@Outside_Shot) for more Bulls news and information