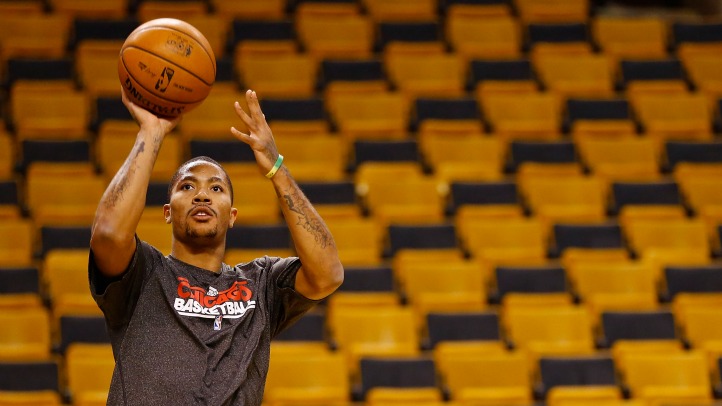 Chicago Bulls chairman Jerry Reinsdorf appeared on Monday reiterated that he will not allow Derrick Rose to return to action until doctors have fully cleared him. Rose has been much more visible around the team of late, prompting speculation and also excitement that the superstar is very close to playing NBA basketball again.
But Reinsdorf says, not so fast.
"There's no date. The doctors say that he's doing everything that he's supposed to be doing and there's no specific date," Reinsdorf said in an ESPN Chicago report. "He's not going to come back until the doctors say unequivocally that he has no greater chance of getting hurt than any other player. If there's any risk, he's not coming back."
Reinsdorf also said that when D. Rose does return, it's going to take some time for the team to adjust to having him on the court again.
"The team that's playing so well today without Derrick is going to have to learn to play with Derrick. People are not going to get as many shots, it's going to be different play when Derrick gets back. It will almost be, the first three or four weeks that he comes back will almost be like a training camp."
Rose has begun practicing with the Bulls again and also playing some 1-on-1 and 2-on-2 basketball. But with the team playing so well in the month of January, the Bulls have continued to take a measured approach to their superstar's recovery in spite of the fact that two players in the league – Ricky Rubio and Iman Shumpert – already returned from similar knee injuries.
Follow "Outside Shot" on Twitter (@Outside_Shot) for more Bulls news and information.