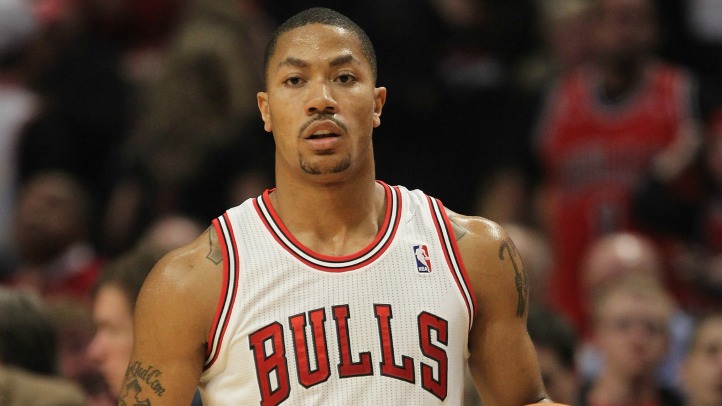 For the last couple of weeks, Derrick Rose has traveled through Europe on his adidas-sponsored D. Rose Tour. At each and every stop, Rose played basketball with his fans overseas and did media interviews.
One of those interviews near the beginning of the tour went largely overlooked. The Englewood native sat down with CNN's Pedro Pinto for a discussion, not about basketball, but about the crime making Chicago a national story for the last 24 months.

Over the weekend six people were killed and at least 22 others were injured, including a 6-year-old girl and her grandmother.
It's been well documented that Rose's basketball talents allowed him to escape the impoverished conditions he faced growing up on the South Side, but no matter where he is in the world, Rose never forgets where he comes from, how he made it out and what the true root of crime is in this city.
"It all starts out from poverty," Rose told CNN. "People just surviving. People are just really trying to get out. If you look at the world we're living in today, everything's just getting faster. You want success faster, you want Internet faster; everything is getting faster. So of course, you being human, you want a lifestyle even faster. You see people being famous off YouTube; you think you could be that next person, so that creates havoc."
Despite being just 24 years old, Rose is very in tune with what goes on in his city, his old neighborhood and how his rise to fame is an inspiration to others. Despite a public persona that has always been misconstrued as Rose being quiet and oftentimes disengaged, he has always been very vocal about and cares greatly for his hometown.
And unlike a lot of athletes, he embraces the fact that he is indeed a role model to many kids in Chicago who come from the same conditions in life that he did.
"I'm young, but for some reason, people tend to listen to me, especially the younger kids just knowing where I grew up and what I had to go through to get where I'm at today," Rose explained. "Being a role model, of course, that's what I try to do.

"I try to stay positive, just really trying to bring hope to my city, where of course, we're going through so much stuff with crime. I'm just trying to bring that positive energy back, bring that excitement back, so that we can get it back on the right track."
Normal 0 false false false EN-US JA X-NONE /* Style Definitions */ table.MsoNormalTable {mso-style-name:"Table Normal"; mso-tstyle-rowband-size:0; mso-tstyle-colband-size:0; mso-style-noshow:yes; mso-style-priority:99; mso-style-parent:""; mso-padding-alt:0in 5.4pt 0in 5.4pt; mso-para-margin:0in; mso-para-margin-bottom:.0001pt; mso-pagination:widow-orphan; font-size:12.0pt; font-family:Cambria; mso-ascii-font-family:Cambria; mso-ascii-theme-font:minor-latin; mso-hansi-font-family:Cambria; mso-hansi-theme-font:minor-latin;} Follow Outside Shot on Twitter (@Outside_Shot) for more Bulls news and information