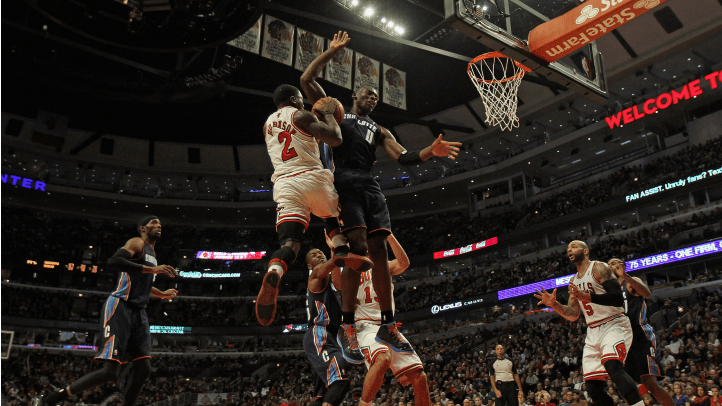 The Chicago Bulls went into their game on Monday with a duel purpose: to put the embarrassment of Saturday night's loss against the Washington Wizards behind them and to avenge the embarrassment suffered at the hands of the visiting Charlotte Bobcats on New Year's
Eve.
We all remember -- or are still trying to forget -- the Bulls' 91-81 loss to the Bobcats who came into the NYE matinee with an 18-game losing streak and gave Chicago their third loss in the last four games of 2012. But Chicago has since turned the page and moved on, and this time against Charlotte, there would be no letdowns as the Bulls were victorious, 93-85.
The Good
The Bulls bench play against the Bobcats was essentially the key to the win on Monday night. Chicago's reserves outscored Charlotte's, 45-29. Leading the charge was Nate Robinson (15 points, 7 rebounds, 4 assists, 3 steals, 3 blocks -- a career-high) and Jimmy Butler (19 points, 6 rebounds) who continues to impress since being placed into the starting lineup for an injured Luol Deng (12 points, 4 rebounds) who made his return to the court on Monday night. Joakim Noah (13 points, 18 rebounds, 7 assists, 5 blocks) continued to show why he was worthy of an All-Star nod, while his frontcourt partner, Carlos Boozer (13 points, 4 rebounds) contributed to the win as well. Chicago was a +7 in the rebound margin (48-41), +6 in points in the paint (44-38) and +9 in blocked shots (14-5).
The Bad
The Bulls led by as many as 14 points twice in the game -- once in the second quarter and again in the fourth -- but found themselves fighting off a furious rally by the Bobcats late in the game. Beyond that there wasn't a whole lot to complain about with the Bulls.
The Ugly
Inconsistent play in the backcourt continues to be an issue for Chicago, despite how well the team has been playing. Kirk Hinrich (8 points, 4 assists) and Rip Hamilton (2 points) combined to shoot just 3-13 from the field while collectively contributing just 10 points in the victory.