Of the Hawks recent skid, the most noticeable wart has been their second defensive pairing. During these three games, and probably a little longer than that, Nick Leddy and Niklas Hjalmarsson have been just plain awful.

Leddy's getting most of the headlines about it, which isn't fair because part of his struggles can be attributed to Hammer being completely non-existent and just some natural young d-men struggles.

There are also outside factors that aren't helping his cause.
We'll start with Leddy. First, the league's book is out on him. Everyone has video to suggest he struggles with physical battles, can be hassled into turnovers under heavy pressure, and really doesn't want to be involved much in front of his own net.

That is what it is, as he's a smallish, 20-year old defender and some of this can't be fixed until a couple years in the gym. Some of it will be fixed when he learns how to truly use his feet and eyes to avoid contact and get himself out of trouble, instead of the panicked clearing attempts or misguided skating that just leads him to getting crushed anyway.

It's all solved by time, which sadly this year's Hawks don't have sprouting out of their wallets.
But there's more to it than that. Leddy's ice time this year is up almost nine minutes from last year. It could be just physical fatigue. Or mental. He's never played this many minutes in this many games before, and not everyone is the physical freak that Duncan Keith is.
He wouldn't have to be playing these minutes if Coach Joel Quenneville wasn't completely mismanaging his defense. Because Q refuses to play the third pairing for anything more than 10 minutes, or because he handcuffs himself by dressing John Scott and not being able to go to a third pairing, everyone else has to play far too much.

There's no way that Nick Leddy should be saddled with the burden of playing time he has now.
Moreso, he shouldn't be killing penalties, because he doesn't know how and doesn't have the tools to learn right now. He doesn't block shots, he's not physical enough to clear the crease, and his positioning can get lost. All of this has lead to a player with completely shot confidence right now, afraid to do anything.
But he's not being helped by his partner either. Niklas Hjalmarsson simply isn't doing anything. He's not defensively sound, he's not hitting anything, and he never provided offense anyway. All he does is block shots, and while useful that's a third pairing skill set.
The Hawks are all in on Leddy. They were when they traded Campbell and tried to lowball Chris Campoli. They gave him the keys. He's not going anywhere. But if Hammer can't discover something resembling a clue soon, then they are going to have to replace him with someone else.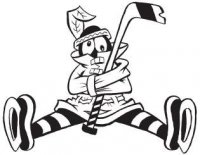 Sam Fels is the proprietor of The Committed Indian, an unofficial program for the Blackhawks. You may have seen him hocking the magazine outside the United Center at Gate 3. The program is also available for purchase online. Fels is a lifelong 'Hawks fan and he also writes for Second City Hockey .