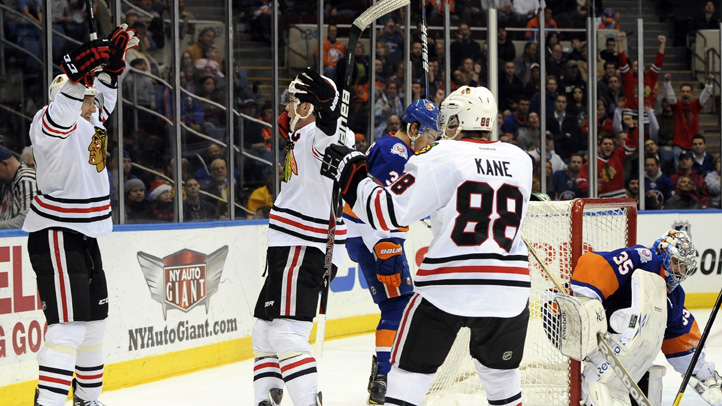 Patrick Sharp scored his second goal of the game 1:34 into overtime and the Chicago Blackhawks beat the New York Islanders 3-2 on Thursday night.
Marian Hossa added a goal, and Ray Emery made 31 saves for the Blackhawks, who earned a 5-4 shootout victory against New York on Friday in Chicago.
Defensemen Travis Hamonic and Steve Staios scored for the Islanders, and Al Montoya made 25 saves.
Hossa gave the Blackhawks a 1-0 lead 11:42 in with a power-play tap-in for his 12th goal of the season. Chicago doubled its lead in the second period when Sharp scored at 2:23 with a snap shot from the left side.
The Islanders cut their deficit in half with 1:39 left in the second when Hamonic blasted a right point slap shot past Emery. New York had a chance to get even, but the Blackhawks killed the Islanders' 5-on-3 power play that lasted 1:56.
Staios did tie it for the Islanders when he slap shot from the left point beat Emery at 10:52 of the third period.