Thousands were left without power and trees were uprooted as high winds whipped the Chicago area Wednesday.
According to ComEd, 9,000 people were without power by 9 p.m. Wednesday due to the windy conditions. Hundreds of crews were working to restore power.
The Skydeck, located on the 103rd floor of the Willis Tower, was closed Wednesday over the winds. It marked the third time the attraction has closed over weather conditions this year, according to the Chicago Tribune.
Reports of trees being uprooted were made across the area, including some in Addison, Hoffman Estates and Schaumburg.
A High Wind Warning took effect across the area at 7 a.m. but was later switched to a Wind Advisory, which remains in effect until 8 p.m.
A Wind Ban was also issued for the entire length of Indiana Toll Road beginning at 7 a.m. CT. The ban -- which is for all triple tractor-trailers, high-profile long-doubles and high-profile oversize permit loads -- will remain in effect until 7 p.m. Wednesday.
Wind gusts of up to 60 mph, some possibly even higher, were forecast. The winds will diminish heading into the evening hours as temperatures stay relatively mild.
The high winds follow severe weather in parts of the area. Just after polls closed for Illinois' primary election Tuesday, storms took a heavy hit on some parts of the state.
Hail of up to 1 inch was reported in several northern Illinois counties.
At 6:33 p.m., weather spotters confirmed a tornado over Good Hope, Illinois, which is located 8 miles north of Macomb, according to the National Weather Service.
Storms, some in the form of supercells, were forecast to begin developing in the evening hours, bringing the threat of hail the size of half dollars, isolated wind gusts higher than 60 mph and possibly a tornado.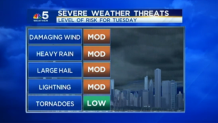 The National Weather Service warned "the ingredients are in place for possible severe storms with all the hazards."
(function(d, s, id) { var js, fjs = d.getElementsByTagName(s)[0]; if (d.getElementById(id)) return; js = d.createElement(s); js.id = id; js.src = "//connect.facebook.net/en_US/sdk.js#xfbml=1&version=v2.3"; fjs.parentNode.insertBefore(js, fjs);}(document, 'script', 'facebook-jssdk'));
Cast your vote early because Byron Miranda is tracking the potential for tornadoes in some parts of the state. RADAR: http://nbcchi.com/dcdHg1r

Posted by NBC Chicago on Tuesday, March 15, 2016