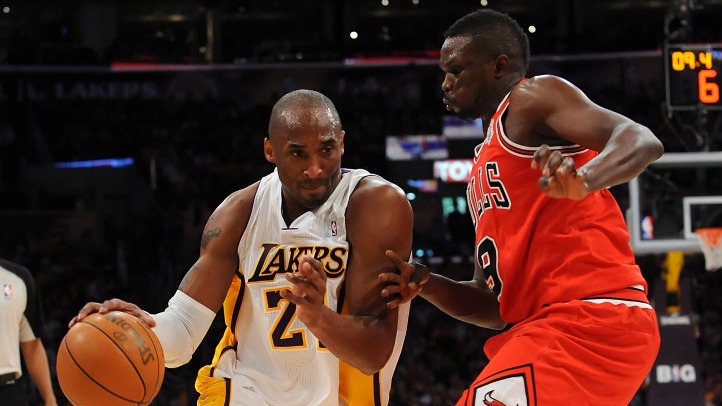 The Chicago Bulls got their West Coast swing off to a losing start on Sunday, falling to the Kobe Bryant- and Dwight Howard-led Los Angeles Lakers at the Staples Center, 90-81. After Marco Belinelli's heroics on Friday night, Chicago wasn't able to bottle the same kind of magic and take it with them to LA.
The Bulls are now 35-28 on the season as the 2012-13 campaign moves into the stretch run, and have lost their last three road games against the Pacers, Spurs and now the Lakers. After playing so well on the road and terribly at home in the earlier part of the season, that trend now seems to have reversed itself.
Chicago should have an easier time with the Sacramento Kings on Wednesday as they try and gain some in the standings as the playoffs near.
The Good
Joakim Noah (18 points, 17 rebounds, three assists, three blocks) had a monster game and was playing with his usual heart and energy. Nate Robinson (19 points, eight assists) led the Bulls in scoring despite not shooting the ball particularly well. All five of the Bulls starters scored in double-figures. Carlos Boozer (12 points, 10 rebounds) put up a double double and Luol Deng (11 points, eight rebounds) was close. Chicago held a slight edge in second chance points (23-20) and forced the Lakers into committing 13 turnovers and turned those takeaways into 18 points.
The Bad
Both coaches used a very short rotation, playing just three reserves off the bench each. The Lakers bench outscored the Bulls 16-10. Chicago was also not able to get an advantage on the glass and got outrebounded 50-46.
The Ugly
The Bulls had a terrible time shooting the ball as they shot 37 percent from the field while the Lakers shot 45 percent. Chicago was also 4-16 (25 percent) from behind the three-point line. LA also blocked nine of Chicago's shots and had more assists than the Bulls (21-17). Jimmy Butler (five points, five rebounds) didn't have one of his best outings shooting 2-8 from the field, while Nate Robinson's 19 points came on 8-19 shooting from the field. Belinelli also shot poorly going 5-15 for his 11 points while Deng and Boozer combined to shoot just 11-32 on Sunday.
Follow Outside Shot on Twitter (
@Outside_Shot
) for more Bulls news and information.