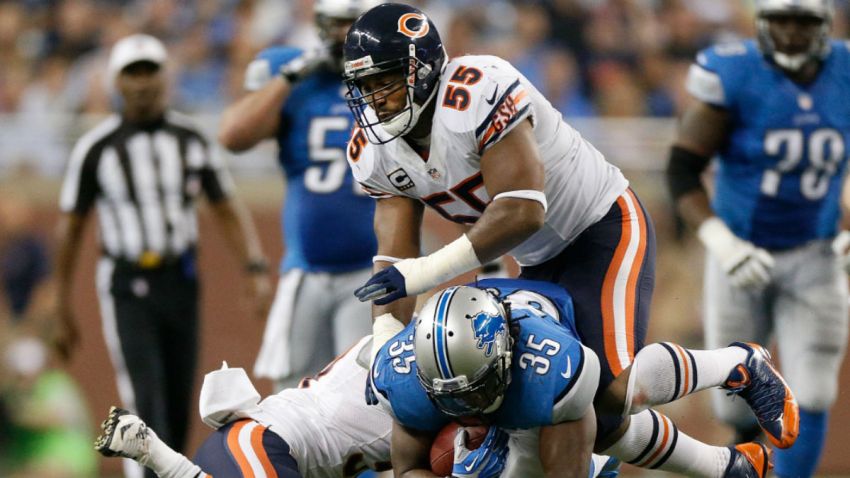 There weren't a lot of surprises during Marc Trestman's press conference on Monday as he discussed the Chicago Bears' 42-21 loss to the St. Louis Rams on Sunday.
For starters, Trestman announced that the team will not have LB Lance Briggs back in the lineup on Sunday when the Bears travel north to face the Minnesota Vikings. Briggs has been out since Oct. 20 when he suffered a shoulder injury against the Washington Redskins. The original timetable for the injury was 4-to-6 weeks, and while Briggs hasn't suffered any setbacks, his continued absence has really put a ton of pressure on rookies Jon Bostic and Khaseem Greene to take his place in the linebacking corps.
As for Jay Cutler, Trestman didn't rule him out completely for the game against the Vikings (contrary to some reports that Cutler would miss the rest of the season with a torn tendon in his ankle), but he did say that he is not expecting his starting quarterback to return to the lineup this week. Obviously, it is a story that will need to be monitored throughout the week, but for now, it appears that Josh McCown will be back in the starting quarterback's role for the third week in a row and the fourth game in five contests.
Finally, Trestman updated an injury that had Bears fans gasping for breath on Sunday. Matt Forte went to the ground in pain after being tackled up high during the fourth quarter of the game, and according to Trestman, he suffered a slight hyperextension in his right knee on the play. Nothing will be made official until the team's first injury report on Wednesday, but since he was able to finish the game and didn't look too hampered by the injury, it's possible that Forte would just be ruled as "limited in practice" when that report does come out.
We'll have plenty of updates for the rest of the week on all of the Bears' injury concerns.