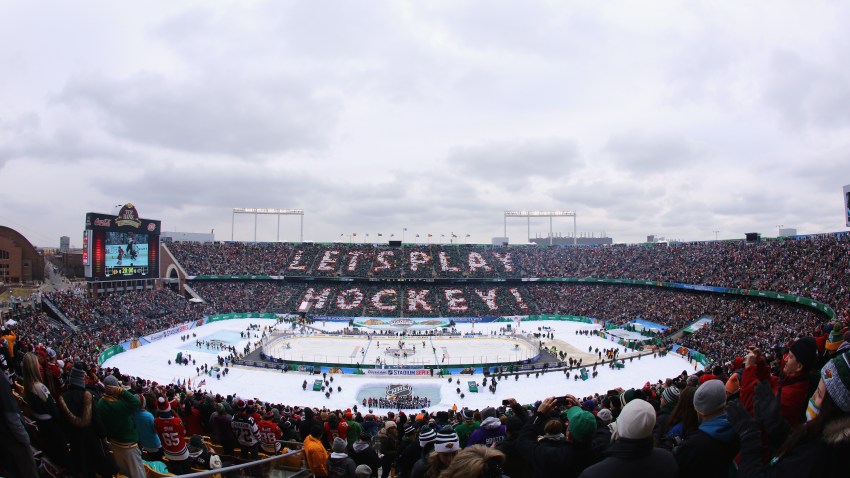 For the fourth consecutive season, the Chicago Blackhawks will play in an outdoor game, and on Tuesday the NHL laid out their vision for the team's Winter Classic showdown against the St. Louis Blues.
The game will take place on Jan. 2 at Busch Stadium, home of the St. Louis Cardinals. The two teams will face-off in a Central Division showdown that could have ramifications on the Stanley Cup Playoffs, and NHL Commissioner Gary Bettman is excited about the potential fireworks that could be in store in the game.
"With the Blues celebrating their 50th anniversary, the League celebrating its 100th, and with Busch Stadium wrapping up its 10th year of service to the St. Louis community, there will be plenty of history to commemorate and lots of excitement to anticipate as the Blues and Blackhawks resume a rivalry that has provided so many fantastic memories," he said.
The Blackhawks and Blues have been divisional rivals for decades, and their rivalry took a new turn in 2016 as the teams met in the first round of the postseason. The Blues ultimately won the series in seven games, defeating the Blackhawks and preventing Chicago from notching a second straight Stanley Cup championship.
The NHL will host a total of four outdoor games as part of a celebration both of its centennial, but also as a celebration of its first big expansion that occurred 50 years ago. The Heritage Classic will make a return this season as the Winnipeg Jets host the Edmonton Oilers in late October, and the Detroit Red Wings and Toronto Maple Leafs will battle in Toronto on New Year's Day in an outdoor rematch of the 2014 Winter Classic.
The Hawks and Blues will play the following day in this year's Winter Classic, and the Pittsburgh Penguins will host the Philadelphia Flyers in a Stadium Series game at Heinz Field on Feb. 18 to wrap up the league's celebration of its centennial.
In terms of outdoor games, the Blackhawks have had plenty of experience, playing in four of them since the 2008-09 season. That year the Hawks hosted the Winter Classic at Wrigley Field, falling to the Detroit Red Wings in their maiden voyage outdoors.
The next game came in 2013 when the Hawks beat the Pittsburgh Penguins at Soldier Field, but that was the lone outdoor triumph that the team has had. They lost the 2015 Winter Classic to the Washington Capitals at Nationals Park, and they were defeated by the Minnesota Wild in a Stadium Series game at TCF Bank Stadium in Minneapolis last winter.
Even with the abundance of outdoor tilts, the Blackhawks still treat the events as special, and their front office embraces the challenges involved.
"The Chicago Blackhawks organization and our loyal fans are very excited to be participating in another marquee event hosted by the National Hockey League," Blackhawks CEO John McDonough said. "With a strong and healthy rivalry already in place between the Blues and Blackhawks, sports fans across the country will be treated to an exciting game featuring some of the brightest stars in the League."