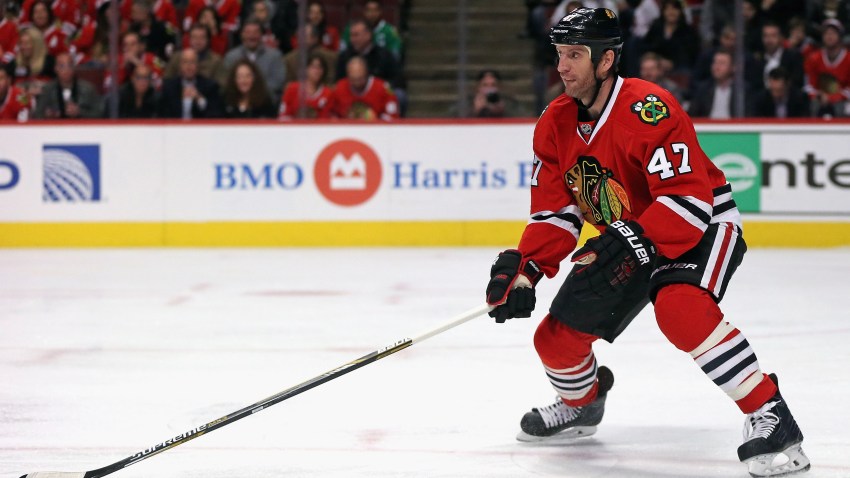 The Chicago Blackhawks have been looking to shore up their blue line all season, but on Tuesday it appears that they've given up on at least one experiment.
That experiment was Rob Scuderi, as the team placed the veteran defenseman on waivers, according to multiple reports.
Scuderi, who has appeared in 17 games and registered a minus-6 rating for the Blackhawks this season, was acquired earlier this year in a trade with the Pittsburgh Penguins. The Blackhawks sent Trevor Daley to Pittsburgh in that swap, and the Penguins have definitely gotten the better end of the deal as Daley has racked up four goals and six assists in 26 games.
If Scuderi clears waivers, the Blackhawks will likely send him to the Rockford IceHogs, a move that would save them $950,000 on their salary cap. They will still carry $1.3 million in cap hit from Scuderi's cap hit if he's not claimed, giving them nearly $4.5 million in buried salary cap hits. That includes Bryan Bickell, who is costing the Blackhawks over $3 million despite not being on the roster, and David Rundblad, who's costing the Hawks $55,000.
According to the salary cap website General Fanager, a Scuderi demotion would help clear the decks if the Blackhawks want to try to make a move at the trade deadline. If Scuderi is sent to the AHL, the Blackhawks could acquire a player with a salary cap hit of $3.9 million or less without having to move out any salary from their 23-man roster, but if another team claims him (an unlikely scenario), the Hawks could acquire a $5.6 million player.
With the deadline so close, and with Marian Hossa seemingly unlikely to go on long-term injured reserve to give the team more cap relief, the Blackhawks are trying to give themselves maximum flexibility as they pursue roster upgrades. The team could use another top six winger and another veteran defenseman, but even with Scuderi's departure, it seems unlikely that they'll be able to swing both moves without clearing even more room.
In the short term, the Blackhawks appear to be giving a couple of rookies an even bigger chance to make an impact on the roster. Erik Gustafsson has been a healthy scratch in the Hawks' last two games, but the team has largely been satisfied with his play this season. Viktor Svedberg could also benefit if Scuderi is sent down, and he looked really solid on Monday night as he scored a goal in the Blackhawks' blowout victory over the Toronto Maple Leafs.