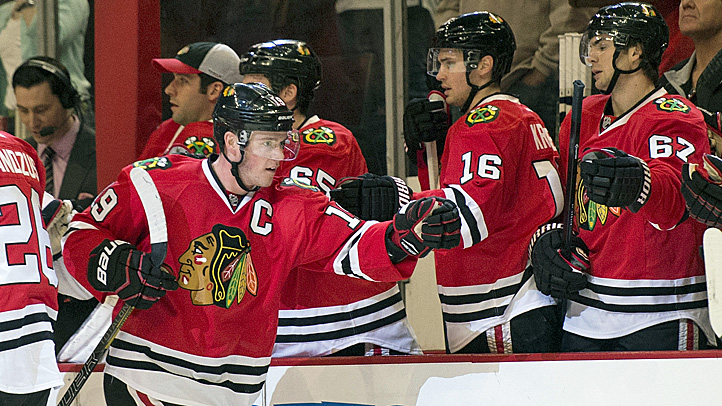 When looking back at the 2010 Stanley Cup championship run of the Chicago Blackhawks, one of the first realizations fans come to is just how loaded that team was at the center position.
Jonathan Toews won the Conn Smythe Trophy that year as the league's playoff MVP. Patrick Sharp bounced around the lineup but thrived basically anywhere he went. Dave Bolland was the ideal third line center for the team, and made it a habit of shutting down high profile players like Henrik an d Daniel Sedin, as well as Joe Thornton. Heck, even John Madden was a huge contributor on both the fourth line and the penalty killing units for the Hawks.
This season, however, the men up the middle for the Hawks are significantly less confidence-inspiring. Yes, Toews is still on the team, but it isn't like he's been lighting the world on fire during the playoffs. Bolland has been largely a shell of his former self, and was a non-entity throughout the Hawks' series with the Detroit Red Wings. Michal Handzus can't seem to find a spot in the lineup that works for him, and even if he could, his speed isn't quite up to snuff. Finally, Marcus Kruger can't win a faceoff to save his life, and despite being an ace penalty killer, head coach Joel Quenneville can't really trust him in even strength situations.
Meanwhile, their West Finals opponents are particularly blessed in this area. They have Anze Kopitar, who is a criminally underrated two-way center who can score just as easily as he can prevent an opponent from doing so. There's Jeff Carter, who is arguably the team's best sniper and can fill the net if he's given space. Mike Richards is a gritty player that the Hawks are familiar with from the 2010 Cup run when he was with the Flyers, and he definitely fits the role of "sandpaper with scoring touch" to a "T". Finally, guys like Colin Fraser, Dwight King, Brad Richardson, and Trevor Lewis are all capable of jumping in at the center position for the Kings, so it becomes quickly apparent that they are blessed up the middle.
Fortunately for the Hawks, they already have experience dealing with guys who can dominate the game up the middle. Against the Red Wings in the second round, Chicago had to contend with both perennial Selke-contender Pavel Datsyuk and Wings captain Henrik Zetterberg, who harassed Toews all series long and did a great job of disrupting the Hawks' offensive game, especially in the middle stages of the series.
Even still, the Hawks were able to overcome those obstacles and win the series, but the challenge against the Kings will be just as daunting. They are going to need guys like Handzus and Shaw especially to step up their games in a big way, both offensively and defensively, because of the aggressive play of the Kings' middle men.