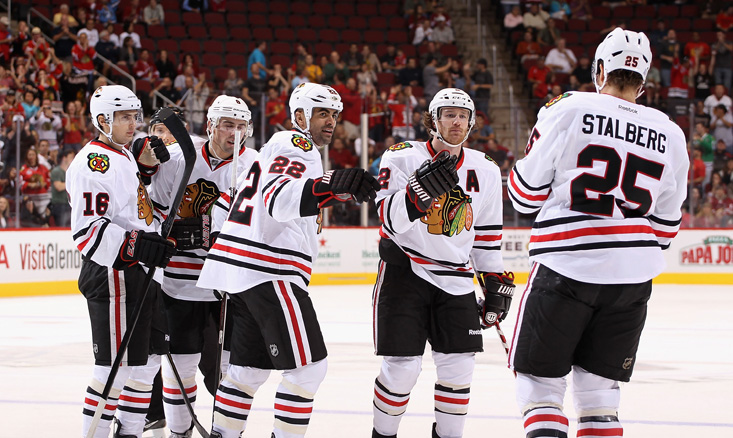 A look at the Blackhawks by the numbers, as they stand after Tuesday night's win against the Coyotes.
15: The number of shots the Hawks blocked Tuesday night, which is a little higher than it was last year. This is only a good thing. The Hawks were cutting down lanes and making it impossible to get pucks to their net. Can't get scored upon that way. Last year, the Hawks were either out of position, or just not determined enough to get into those alleys. That led to shots getting through, and rebounds and scrambles that their undersized defense weren't really equipped or all that interested in clearing. We only saw one or two of those last night. Better yet, a few forwards got in on the act, meaning they weren't dropping too deep in their zone and were closing on the Coyotes point men. While it's too early to say the Hawks smothering defensive game is back, at least it's headed that way.
-2: The combined CORSI rating of Dave Bolland, Bryan Bickell, and Michael Frolik. This isn't uncommon for them as they draw the best weapons of the other team, but it's still a bit surprising considering how all over the ice (in a good way) the three were last night. But then again, they scored twice and didn't give up a goal against, and that's probably what really matters.
18: The number of shots that Marian Hossa has attempted this year. That's a shot per game higher than what he's averaged in his two seasons here. At this pace for 80 games -- which no one expects him to play but it's fun to fantasize about -- it would set a career high in shots. If he buries those shots at his career shooting percentage of 12.8 percent, that would be 46 goals. The last three times Hossa got over 300 shots in a season, he scored 40, 43 and 39 goals in those seasons. Encouraging, no? What we can deduce in these five games, or four that Hossa has played, is that being on Patrick Kane's wing has found him in a lot more space than he had in the past couple years. This is due to Kane's ability to handle the puck and draw defenders out of position, and his vision to find Hossa when he occupies that space vacated.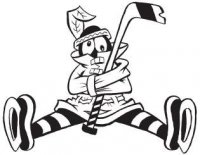 Sam Fels is the proprietor of The Committed Indian, an unofficial program for the Blackhawks. You may have seen him hocking the magazine outside the United Center at Gate 3. The program is also available for purchase online. Fels is a lifelong 'Hawks fan and he also writes for Second City Hockey .