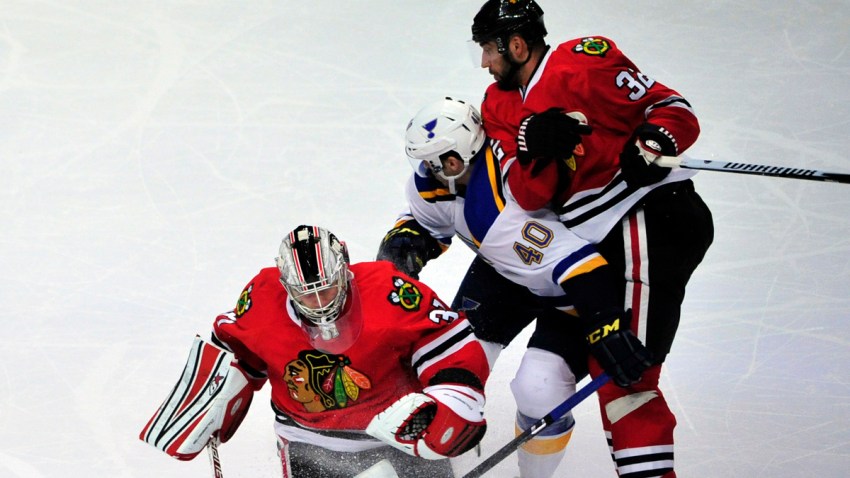 The Chicago Blackhawks were down 3-2 late in the third period of their game against the Buffalo Sabres Friday night, but two goals from Jonathan Toews lifted them to a 4-3 victory and helped them climb up the ladder once again in the Central Division standings.
With the victory, the Blackhawks now sit just one point behind the Nashville Predators and St. Louis Blues atop the division, with an equal number of games played. The Blues also won their game on Friday night, using a hat trick from Jaden Schwartz to vault themselves into a tie for first place with a 7-5 road victory over the Dallas Stars.
The Hawks and Blues also gained ground on the Anaheim Ducks, who dropped a 4-2 decision to the Colorado Avalanche. That loss leaves the Ducks at 107 points with just two games left to play, while the Blackhawks and Blues both have two games in hand on the Pacific Division champions.
With the season entering its final week, the Blackhawks and Blues have two games remaining against one another, and those contests will go a long way toward determining who will win the Central Division. The Predators do have a pretty easy road in to the finish line, with only one game remaining against a playoff foe. They also have two games left against the Dallas Stars, a team that has been playing better hockey of late.
Even with Friday's results, the potential playoff matchups remained the same in the Western Conference. The Blues would still open the postseason hosting the Blackhawks in a rematch of last year's first round series, and the Predators would open the postseason against the Minnesota Wild (whom can clinch a playoff spot with a win over the Detroit Red Wings and a loss by the Calgary Flames).
The Anaheim Ducks would welcome their crosstown rivals to the Honda Center in the first round, with the Los Angeles Kings holding the second wild card spot. The Canucks would open the postseason at home against the Flames if today's seedings held.