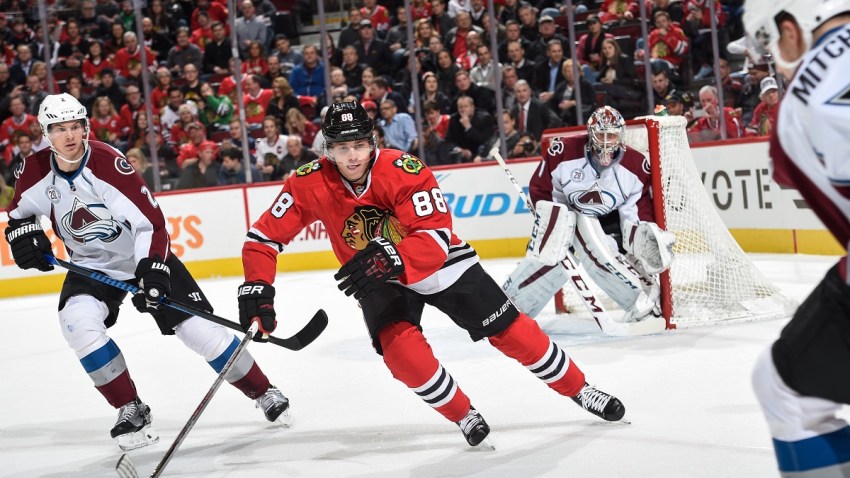 The Chicago Blackhawks had shut out their last two opponents at the United Center before Tuesday night, but they had the favor repaid to them by the Colorado Avalanche as they fell 3-0 in a lackluster defeat.
Patrick Kane's 26-game point streak came to a crashing end on Tuesday as Semyon Varlamov stopped all 29 shots that he faced. Matt Duchene scored Colorado's first goal, and Zach Redmond and Gabriel Landeskog also notched tallies for the Avalanche as they blanked Chicago.
The Blackhawks got started on the power play early in the game as Colorado's physical play came at an early cost, but their impatience didn't cost them. The Avalanche did a nice job of filling shooting lanes, and despite Chicago's quick passing they weren't able to get anything of quality on net.
The Blackhawks continued to generate chances as the period wore on, but multiple 2-on-1 rushes fell by the wayside. Artem Anismov was chased down on the first one as he tried to start a shorthanded rush, and then Kane had a feed intercepted on an odd-man break of his own to keep the game scoreless.
With a little over four minutes to go in the first period, the dam broke and Colorado scored. Landeskog found a wide open Duchene on the left side of the ice, and his shot deflected off of Marcus Kruger's stick and past Corey Crawford to put the Avalanche up 1-0.
Early in the second period, the Blackhawks found themselves on the short end of the stick again as they gave up another goal. Zach Redmond took advantage of a defensive lapse by Bryan Bickell to pinch in from the point, and he ripped a shot past Crawford to give Colorado a 2-0 edge.
Through the rest of the second period, the Blackhawks had their fair share of chances, but Varlamov turned up his game. The best chance came on a tremendous feed from Andrew Shaw to the front of the net, but Bickell was stopped on consecutive shots at the top of the blue paint to keep Colorado on top through 40 minutes of play.
The third period saw more opportunities for the Hawks, with another power play giving them some good possession time, but they were unable to sustain the pressure with multiple shots on goal. That inability to create long-lasting opportunities was ultimately the team's downfall in the game, and a Landeskog empty-net goal sealed the victory for Colorado.
The Blackhawks will take the ice again on Thursday night when they welcome the Edmonton Oilers to the United Center for the final time this season.