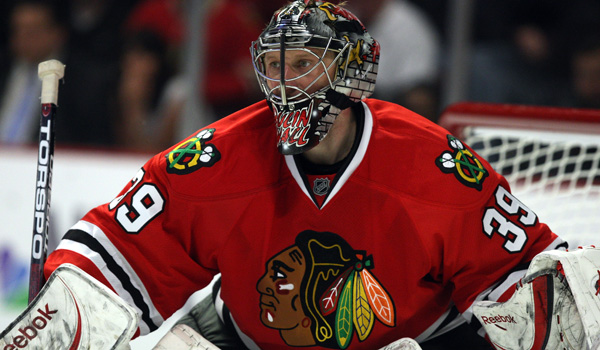 The Chicago Blackhawks begin their 2013 training camp Thursday morning at the University of Notre Dame, and in preparation for that event, they announced their training camp roster.
Outside of the standard assortment of stars like Patrick Kane, Patrick Sharp and Jonathan Toews (the full roster can be found here), there is a slew of young players who will be looking to make an impact and potentially set themselves up for a shot at making the roster either out of camp or later in the season.
The Hawks' 2013 first-round pick Ryan Hartman makes his camp debut this season. He'll be joined by Drew LeBlanc, who was signed by the Hawks out of college in the late stages of the 2013 season; Mark McNeill, who was a 2011 draft pick by the Hawks and is considered to be a potential future top six forward for the club; and Brandon Pirri, who will be battling for a number two center spot on the club.
In addition to those guys, some of the other hotshot prospects in the organization will be hitting the ice at Notre Dame. Teuvo Teravainen, who caught the attention of hockey observers with his excellent performance at the World Junior Championship this year, will make the trip, as will
Phillip Danault, another guy with an outside chance of making the Hawks roster. Antti Raanta, who was signed as a free agent out of Finland earlier this year, will also be in camp and looking to make an impression before a likely trip to Rockford to begin the season.
Finally, the team will welcome their small crop of free agent signings to camp too. Goaltender Nikolai Khabibulin will obviously be there as he prepares to be the back-up to newly re-signed starter Corey Crawford. 6'5" behemoth Brad Winchester will try to earn a spot on the roster after signing a 1-year deal with the Hawks during the offseason. Wade Brookbank will also be in camp as a non-roster invitee, looking to make one last attempt at making an NHL roster.
Camp begins Thursday morning with a closed practice and will continue through Sunday. The Saturday and Sunday practices will be open to the public, but are both sold out according to the team.