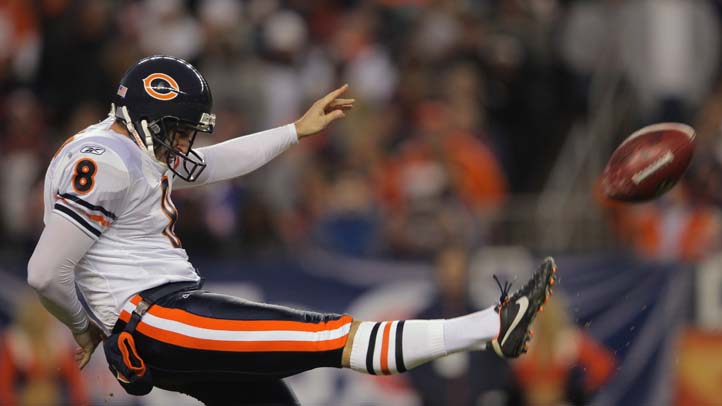 The Bears couldn't overlook Adam Podlesh's five punts Sunday in Detroit.
A 40.2 average for a net 28.8, Podlesh's net average of 38.5 falls to 6th worst in the league.
While Podlesh has shortened his drop to 13 yards under new Bears special teams coordinator Joe DeCamillis, it is his timing he says is off.
"I almost always fall back to my drop and my tempo," Podlesh said Wednesday. "Usually those are big pieces of the puzzle, I'd say about 90 percent of my punting."
Podlesh also blames bad mechanics, and the scratch golfer he is, he says bad "swing thought" creeps into his kicking game too.
"There's a few things that I've kind of looked into that I've kind of helped rectify the situation a little bit this week," Podlesh said.
Tuesday, the Bears informed Podlesh they were trying out a half dozen punters available on the free agent market. He was in effect put on notice.
"I kind of understood that after what I put out there on the field in Detroit," Podlesh admitted. "I basically said to myself that I wouldn't have been surprised that they would look at what was out on the market."
DeCamillis says Podlesh has had a good week in practice already, but the special teams coach has other problems. While Devin Hester leads a No. 1 ranked kicking unit, the Bears kick coverage team is ranked 30th in the league.
"I wish I had a magic wand," DeCamillis said. "Whatever you do with a wand, I would've already waved it and fixed it."